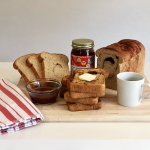 Try this wonderful recipe from LC Foods and let us know what you think!
Keto Cinnamon French Toast
Delicious and hearty french toast to elevate your low carb breakfast routine!
Instructions
Cut 6 thick slices from the center of the loaf of Low Carb Cinnamon Bread
Heat 1 Tbsp butter in a cast iron skillet
In a bowl, whisk together eggs and heavy cream
Dip the bread slices in the egg mixture, coating both sides well
Add dipped bread slices to the hot skillet and cook for 3-4 minutes per side
Heat your favorite flavor of No Sugar Added Fruit Preserves in the microwave for 30 seconds
Serve 2 slices of cinnamon french toast with 2 Tbsp of warm fruit preserves and enjoy!