Print
MINI EASTER CAKES (Baked in real eggshells!)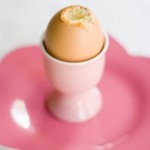 These delicate and unique desserts are sure to amaze your guests, even without you telling them they're low carb.
9

large eggs (Only

one

will get used in the cake. The rest are just used for the shells.)

1/2

C LC-White Bread Flour

1/4 tsp

baking powder

1/8 tsp

baking soda
a pinch of salt

1/2

C LC-Sweet White Sweetener

1/4

C unsalted butter, room temperature

1/2 tsp

lemon extract

1/4

C 0 carb or low carb sour cream
Instructions
Carefully poke a small hole in the top of each egg. The easiest way to do this is to use the tip of a corkscrew bottle opener.
Once you have poked a tiny hole, peel back the edges of the hole to expand it a bit. The holes need to be large enough to fit the tip of a piping bag inside. You can always make the hole larger when you are ready to pipe so err on the smaller side during this step.
Turn the egg upside-down and dump out the contents. Keep the contents of one egg separate to use in the cake recipe.
Rinse the insides of the eggs out thoroughly over the sink. Then, immerse them in saltwater for thirty minutes. Filling the eggs with some of the saltwater will help them sink.
Rinse the egg shells in cold water and lay the eggs hole side down on a paper towel to dry.
Mix the LC White Bread Flour, baking powder, baking soda, and salt in a medium-sized bowl and set aside.
In a large bowl, mix one egg and sugar until light and creamy.
Add the butter and lemon extract and mix until fully integrated.
Mix in the dry ingredients until just combined.
Add the sour cream and mix until smooth.
Place the prepared egg shells into a cupcake tin. Use aluminum foil to help them stand upright.
Load the batter into a piping bag fitted with a large round tip. Make sure that the tip can fit all of the way inside of the egg hole. If it can't, expand the hole a little bit at a time until it fits. Fill your eggs about 3/4 full with batter.
Bake the eggs at 350 F for 23 minutes.
If you would like, you may add Frosting as "yolk". Simply pipe LC Foods Vanilla Frosting (dyed yellow) in between layers of batter inside the egg shells.