Read About The Owners & Creation Of LC Foods Corporation »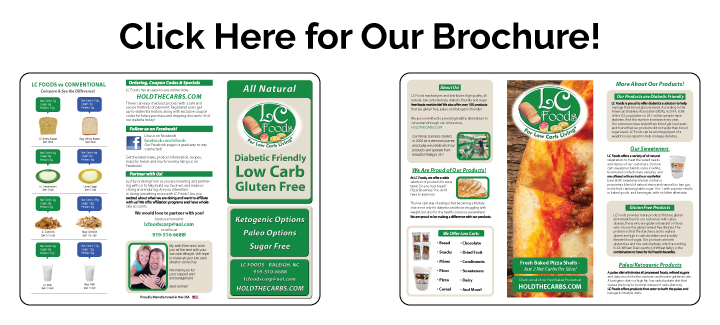 LC Foods Company is committed to providing our products world wide as good eating choices for the web based consumer, retail store consumer, health food store customer, food service market place, health food distributors, health food professional services, along with healthy eating clinics and diabetic care clinics.
LC Foods Company is dedicated to bringing quality foods to market not previously available to the general public for purchase, including low carb flour blends, low carb milk blends, low carb sugar blends, low carb syrups, sauces, frostings, seasonings, rubs, potatoes, gravy and much more.
LC Foods offers specifically designed foods for all types of diabetic & low carb programs including pre diabetes, type 2 diabetes, diabetes mellitus type 2, those with insulin resistance, impaired fasting glucose, impaired glucose tolerance, borderline diabetes, those with high blood sugar, adult onset diabetes, type 1 diabetic dietary programs and pre-diabetic diagnosed desiring to make dietary changes before the onset of type 2 diabetes. We cater to the low carb community looking for products low in carbohydrates and sugar, as well as individuals recognizing that a low carb lifestyle reducing simple carbohydrates out of their diet will afford them an easier time in weight control and management.
We specialize in low carbohydrate living, diabetic living, weight management living, and low carb diets and dieting. We cater to the diabetic community and individuals who want to reduce carbohydrate intake in their diet with a full line of products very thoughtful to the glycemic index, the glycemic load index, and rich in proteins and fibers. The consumer buying our products can be assured that we have made every effort to insure that our products are void of any simple sugars, corn syrups, wheat, and high carbohydrate flour products, low in net carbohydrates, and high in fiber and protein. We are also dedicated to weight management with all of our products designed to not easily spike blood sugar levels, which releases insulin to create fat storage in the body. LC Food Company is committed to providing these healthy, low carb food products and choices to the health conscious consumer.