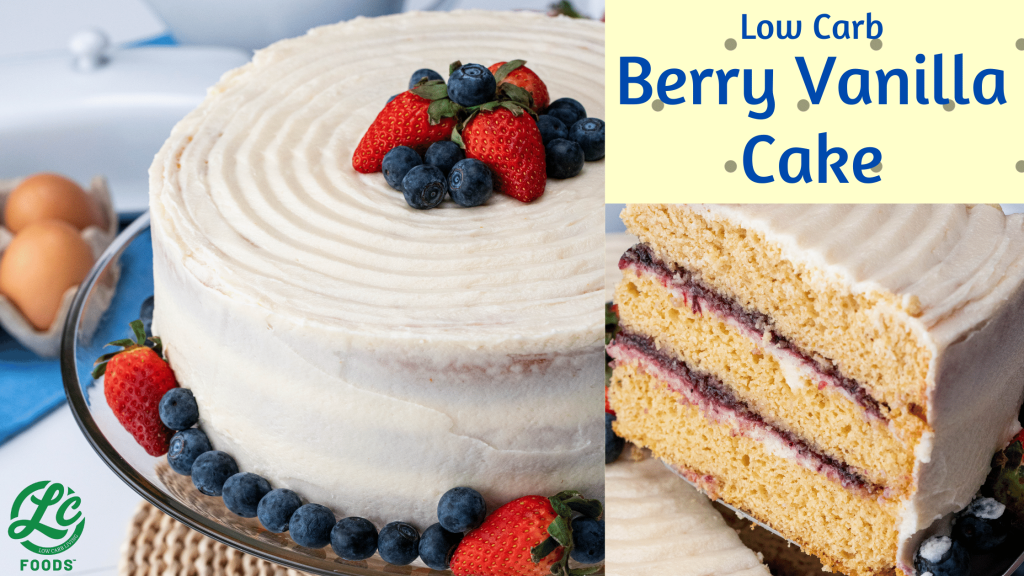 Ingredients:
Vanilla Cake:
3 packages LC Yellow Cake Mix
1 cup + 6tsp melted coconut oil, divided
6 Tbsp heavy cream, divided
9 eggs, divided
6 3/4 tsp vanilla extract, divided
6 Tbsp water, divided
Fruit Filling:
Vanilla Frosting:
1 1/3 cup LC Vanilla Frosting Mix, divided
1 cup (8 oz) cream cheese, softened, divided
1/2 tsp vanilla extract, divided
4 Tbsp water, divided
1/2 cup fresh strawberries for decorating
1/2 cup fresh blueberries for decorating
Heavy cream, as needed
Method:
Start by making the cakes in three batches. Preheat the oven to 350F. Mix 1 pack LC Yellow Cake Mix, 1/3 cup + 2 tsp melted coconut oil, 2 Tbsp heavy cream, 3 eggs, 2 1/4 tsp vanilla extract, and 2 Tbsp water with a hand mixer for 1-2 minutes, or until the batter is smooth. Pour into a greased and lined 9″ round cake pan. Bake for 23 minutes or until the top springs back. Cool for 15 minutes in the pan before turning out. Repeat 2 more times. Let cakes cool completely before making the icing.
Mix together the No Sugar Added Strawberry Preserves with the No Sugar Added Blueberry Preserves in a small bowl and set aside for later.
Once the cakes are cooled, use a bread knife to cut the top of the cake round off by slowly turning the cake in a circle, as you cut in place with the knife. Use your free hand to gently hold the top of the cake while you cut. This ensures even cake layers.
Spread an even layer of the preserves mix on two of the cake rounds.
Make the icing in two batches so that it doesn't harden up too much in between spreadings.
In a bowl, beat ½ cup softened cream cheese with a hand mixer until creamy and smooth. Slowly add in ¼ tsp vanilla extract, 2 Tbsp water, and ⅔ cup LC Vanilla Frosting Mix and mix on low until just combined.
Use immediately by spreading on top of the berry preserves. Stack the cake rounds, leaving the unsliced round as the top layer. Apply a crumb coat with remaining icing.
Repeat step 6 with the other half of the ingredients. Frost the outside of the cake immediately.
Top the cake with a pretty arrangement of strawberries and blueberries.
Slice and enjoy!