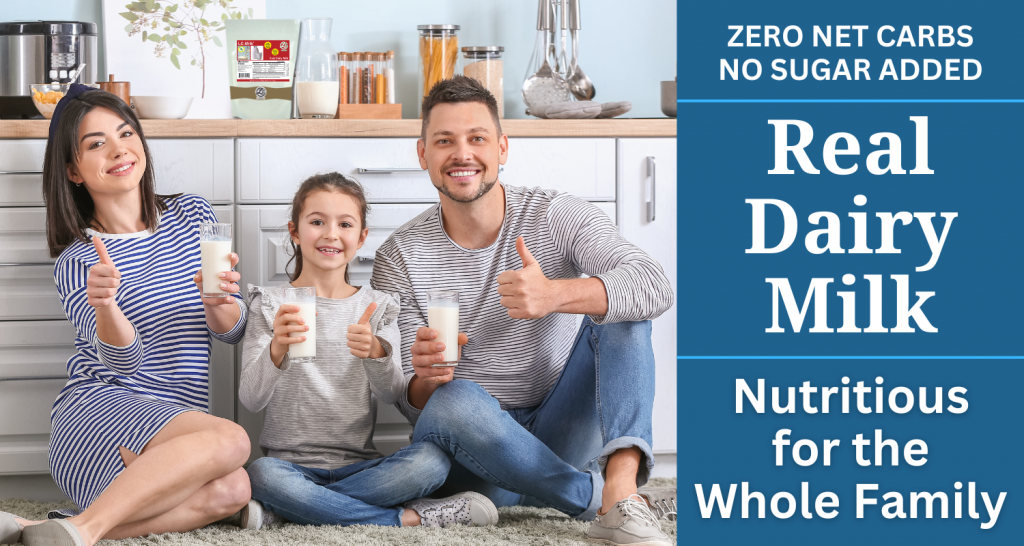 LOW CARB MILK with ZERO net carbs! Easy to make and tastes delicious!
Tired of soy milk, coconut milk and almond milk? Our low carb milk is real milk, made from real milk products. The milk sugar and lactose have been removed through a special process, while keeping the high protein, and natural richness. Super easy to make – just add heavy cream and water to the mix and voila – delicious low carb milk that you can enjoy while maintaining your low carb lifestyle.
What Is Milk Powder?
While powdered milk might not sound like the most delicious ingredient, it's essential to various bread and prepared food recipes. Milk powder is also a vital resource for individuals who don't have access to fresh milk, providing vitamins and nutrients in case of emergency. But what is milk powder exactly? Milk powder is milk that has been pasteurized and dried through evaporation. Several different types of milk are available in powdered form, including whole, skim, and even non-dairy milk.
How to Use Milk Powder
Whether you're searching for a way to boost your nutrient intake or add extra flavor to your baked goods, milk powder is the perfect option. You can incorporate milk powder into your low-carb meals in several ways.
We especially love combining it with one of our low-carb mixes like our Low-Carb Cheezy Biscuit Mix, Low Carb Gluten Free Bread Mix, Low Carb Multi Grain Bread Mix, and Low Carb Pizza and Calzone Mix.
By now, you've heard of Fairlife® milk – Coca-Cola's new high-end, highly modified and expensive milk product. Fairlife® milk touts being lactose-free, low in sugar and high in protein. Sound familiar? Our low carb milk mix is all that and more! Let's compare the nutritionals (per one cup serving):
Carbs Fiber Sugars Net Carbs Protein Lactose
LC-Milk (prepared) 1g 1g 0g 0g 17g No
Fairlife® Whole 6g 0g 6g 6g 13g No
Regular Whole Milk 12g 0g 11g 12g 8g Yes
Not only does LC-Milk have zero carbs compared to 6g in Fairlife®'s milk product, but LC-Milk also has more protein per cup than Fairlife® and it tastes great! LC Foods is proud to provide the low carb and diabetic communities with a far better milk alternative than Fairlife®.
Have a cold tall glass of low carb milk with your low carb Bagels,  Cookies, Cakes and Muffins! Or enjoy it with our Low Carb Hot Cereal. Use it in recipes calling for milk so you can lower your carb count. How about adding a scoop of our Low Carb Ice Cream for a thick, delicious milk shake! Comes in two sizes for your convenience.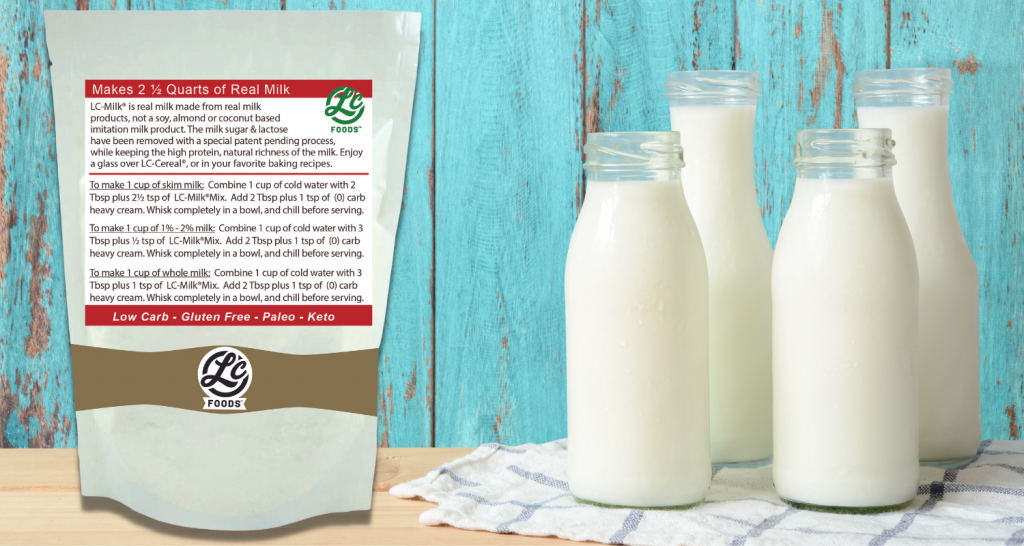 As with all LC Foods low carb products, there's no sugar added (of course!) and no preservatives!
---
What Folks are Saying about LC Milk…
"I never take the time to review a product I've bought… but this powdered milk is so 100% spot on and perfect, I felt I owe it to anyone else out there looking for low carb products that actually taste like the product they are designed to replace. This LC-Milk tastes exactly like standard milk you'd buy at the store. I do Keto, and I was tired of adding heavy cream to my coffee in the morning, but half-and-half has too many carbs (when you drink as much coffee as I do.) So I decided to give this product a try to make my own half-and-half. I mix up 1 cup of this milk, and I add 1 cup of heavy cream. I would bet my life savings that no one would possibly be able to tell it wasn't standard half-and-half. To be thorough… it also just tastes like regular milk, if you don't add the heavy cream."– Michael

"Tried the low carb milk for the first time today. I am very, very impressed. I made the whole milk and paired it with some low carb shortbread cookies I made. Cookies and milk–I was in heaven. The milk tastes just like regular milk. I didn't drink milk often even in my pre-low-carb days, but there are a few things that just call for a nice glass of milk and this fills the bill perfectly." – Sharon