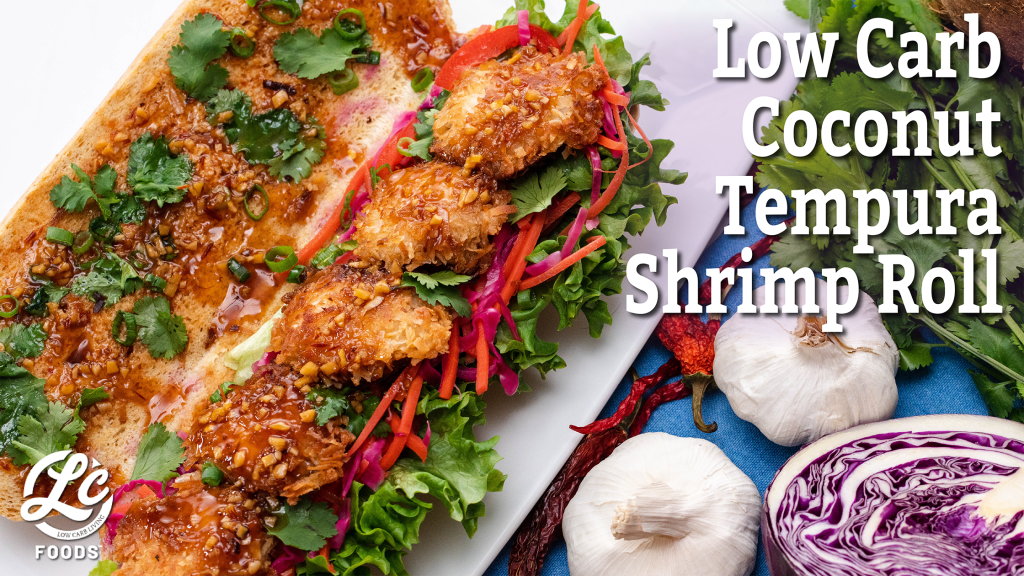 Prep Time: 20 minutes
Cook Time: 15 minutes
Total Time: 35 minutes
Servings: 2
Ingredients:
Shrimp:
Pickled Veggies:
Sandwich Fillings:
Sweet Chili Sauce:
Method:
Start by pickling the veggies. Fill a heat safe jar with the red bell pepper, carrot, and purple cabbage. Combine the rice vinegar, white vinegar, water, salt, and erythritol in a small saucepan, and heat until just boiled. Carefully pour over veggies. Let cool to room temp and refrigerate until use.
Combine all of the sauce ingredients together in a small saucepan, and simmer over low heat for 10 minutes.
While the sauce simmers, prepare the tempura batter by using a whisk to combine the batter mix, water, and egg. Stir until smooth. Cover and refrigerate for 10 minutes.
Spread coconut shreds out on a plate for rolling the shrimp in.
Heat coconut oil up in a deep pan over med/med-high heat, or until temp reaches 350F.
To fry the shrimp, start by dunking the shrimp into the tempura batter, then press them in the coconut shreds. Fry a few shrimps at a time without overcrowding the pan. Once golden brown, let drain on a paper towel lined plate.
Brush the melted butter over the top of the sub rolls and heat them briefly in a toaster oven or in the oven at 350F for 3-5 minutes.
Cut open and spread the Sweet Chili Sauce on both halves. Layer in the vegetable fillings, and top with the tempura coconut shrimp. Serve immediately and enjoy!