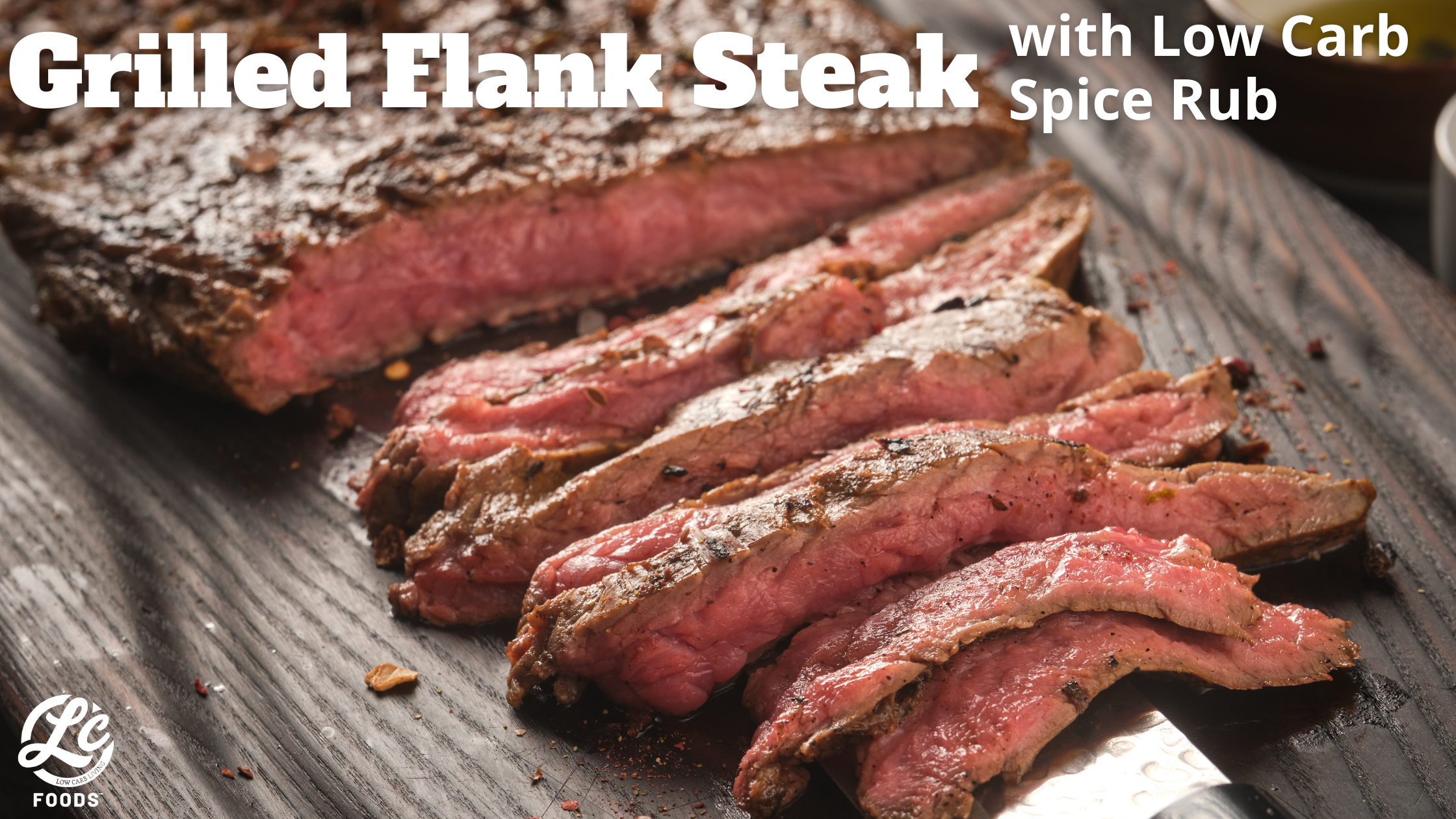 Ingredients:
2 tablespoons chili powder
1 tablespoon ground coffee
2 tablespoons LC Brown Sugar Sweetener-Inulin
½ teaspoon ground coriander
¼ teaspoon cumin
½ teaspoon Kosher salt
½ teaspoon coarse-ground pepper
1 2-pound flank steak
Method:
In a small bowl, stir together the chili powder, ground coffee, LC Brown Sugar Sweetener, coriander, cumin, salt and pepper.
Sprinkle half of the spice mixture on one side of the flank steak, rubbing it all over and on the edges. Turn the steak and rub the rest of the spice mixture on the other side.
Place the rubbed steak into a resealable plastic bag or covered dish, refrigerate, and allow it to marinate for at least 2 hours or up to overnight.
When you are ready to proceed, take the flank steak out of the refrigerator and let it rest at room temperature for at least 30 minutes.
Preheat the grill to medium to medium high heat. Pour some oil on a folded paper towel, and carefully oil the grates on the grill to prevent sticking.
Once the grill is good and hot, lay the flank steak on the grates. If your grill is hot enough, it should sizzle nicely so you get a good sear.
Cook for about 5 minutes, then flip the steak and cook for another 3 or 4 minutes. Insert a meat thermometer into the steak to check the internal temperature. When it reaches 125 degrees, pull the steak off the grill for medium rare (the temperature will continue to rise while resting.)
Using tongs, remove the steak and put it in a plate or cutting board and lightly tent with foil and allow it to rest for 5 to 10 minutes for the juices to redistribute.
While the steak is resting, remove the LC Cornmeal Muffins from the package and container, wrap in foil and place them on the grill to warm for about 5 minutes.
Slice the steak thinly AGAINST the grain (otherwise it will not be as tender). Serve with LC Cornmeal Muffins and enjoy!
All LC Foods products have full nutritional detail on their labels and website. Total carb counts for a full recipe will vary and depend on the other ingredients used. Please refer to free apps, such as My Fitness Pal, My Net Diary or Carb Manager, to calculate nutritional information.