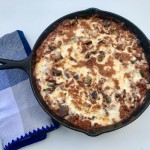 Try this wonderful recipe from LC Foods and let us know what you think!
Italian Beef and Veggie Skillet
An easy and delicious weeknight keto meal!
Ingredients
2 Tbsp Olive Oil +1 tsp
2 garlic cloves, sliced
1 Medium Eggplant, cubed
1 Medium Zucchini, cubed
1lb Ground Beef
1- 28oz can Crushed Tomatoes with Basil
1 cup Whole Milk Ricotta
Salt and Pepper
Garlic Powder
Italian Seasoning
Red Pepper Flakes
1 cup Shredded Whole Milk Mozzarella
Instructions
Heat 2 Tbsp olive oil in a large skillet over medium heat
Add sliced garlic and cook for 1-2 minutes, until garlic starts to turn golden-brown
Add cubed eggplant and zucchini
Season to taste with salt, pepper, garlic powder, Italian seasoning, and red pepper flakes
Stir and cook for 5 minutes, until veggies begin to soften
Add the can of crushed tomatoes, stir and simmer for 15-20 minutes, until veggies are soft but not mushy
Meanwhile, heat remaining 1 tsp olive oil in a separate pan
Add ground beef and season with salt, pepper, garlic powder, Italian seasoning and red pepper flakes
Cook until browned and cooked through
Once the beef is done, add it to the skillet
Add ricotta to the skillet and stir to combine
Spread shredded whole milk mozzarella over the top and broil for a few minutes, until bubbly and browned
Serve with our Low Carb Thin Spaghetti Pasta for an extra hearty meal!
Nutrition Information
Serving size:
1 cup
Carbohydrates:
6