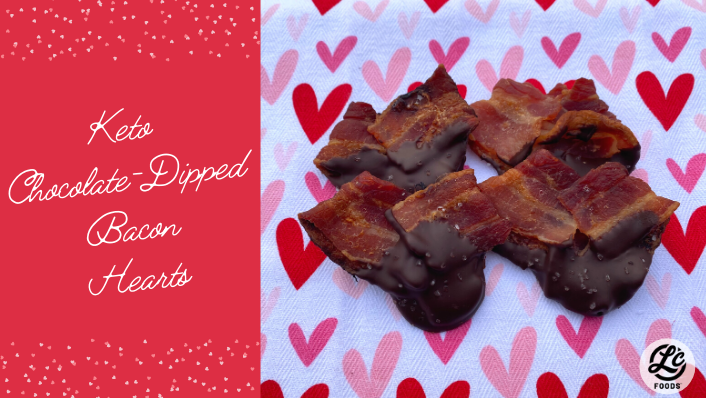 A sweet and savory treat to share with your Valentine or to enjoy anytime!
Ingredients:
Method:
Preheat oven to 400°
Line a baking sheet with aluminum foil
Cut each strip of bacon in half
Place two halves of bacon on the baking sheet in a 'V' shape, then fold over the tops to make a heart shape (see image below)
Repeat until you have used all bacon strips
Bake for 15-20 minutes, the halves will stick together forming a heart!
Transfer to plate lined with paper towels and let cool
In the meantime, place Sugar Free Dark Chocolate Wafers in a microwave safe bowl with the coconut oil
Microwave on 50% power in 30-second intervals until melted
Dip the bottom half of the cooled bacon hearts in the chocolate (use a spoon if you want more coverage)
Place chocolate dipped bacon hearts on a plate lined with parchment paper
Sprinkle with coarse sea salt
Chill in the refrigerator until set
Share and enjoy!