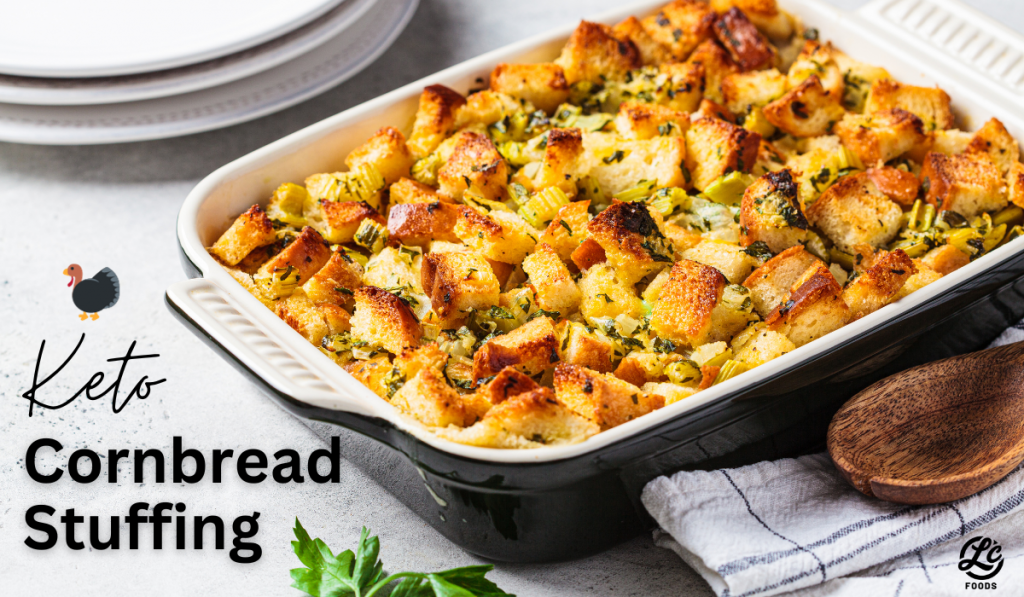 Ingredients:
1 Package LC Foods Low Carb Cornbread, cut into cubes
1 Tbsp Olive Oil
1/2 lb Pork Sausage
2 Celery Stalks, chopped
1/2 Yellow Onion, chopped
2 Cloves Garlic, minced
2 tsp Dried Sage
1 tsp Dried Thyme
1 cup Low Sodium Chicken Broth
Salt & Pepper, to taste
Directions:
Preheat oven to 375 degrees.
In a large skillet, heat oil over medium heat.
Add sausage and cook until browned, 7-8 minutes, breaking it up into large crumbles.
Use a slotted spoon to transfer sausage to a large mixing bowl. Set aside.
Add celery, onion and garlic to the skillet and cook about 7 minutes, until translucent.
Stir in chicken broth, sage, thyme, salt and pepper, and bring to a boil.
Add cornbread cubes to the bowl of cooked sausage.
Pour broth mixture over the top and mix gently, until well combined.
Transfer to a 9 inch casserole dish sprayed with cooking spray, and bake for 25-30 minutes, until heated through.
Optional: broil for a few minutes to brown the top.
All LC Foods products have full nutritional detail on their labels and our website. Total carb counts for a full recipe will vary and depend on the other ingredients used. Please refer to free apps, such as My Fitness Pal, My Net Diary or Carb Manager, to calculate nutritional information.