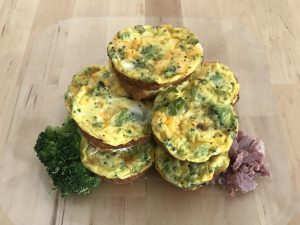 Ingredients:
1 cup diced broccoli, steamed
1 cup shredded sharp cheddar
Method:
Preheat oven to 350
In a large bowl whisk together eggs, heavy cream, salt and pepper
Stir in the broccoli, ham and cheddar
Spray a muffin tin with cooking spray
Pour in egg mixture, about 3/4 full
Bake for 20 minutes, or until set
Makes 12 egg cups
This recipe is totally customizable to whatever ingredients you have in your fridge! 
Use any variety of meat, vegetables or cheese that you have to make your own Keto Egg Cups.

Try this wonderful recipe from LC Foods and let us know what you think!