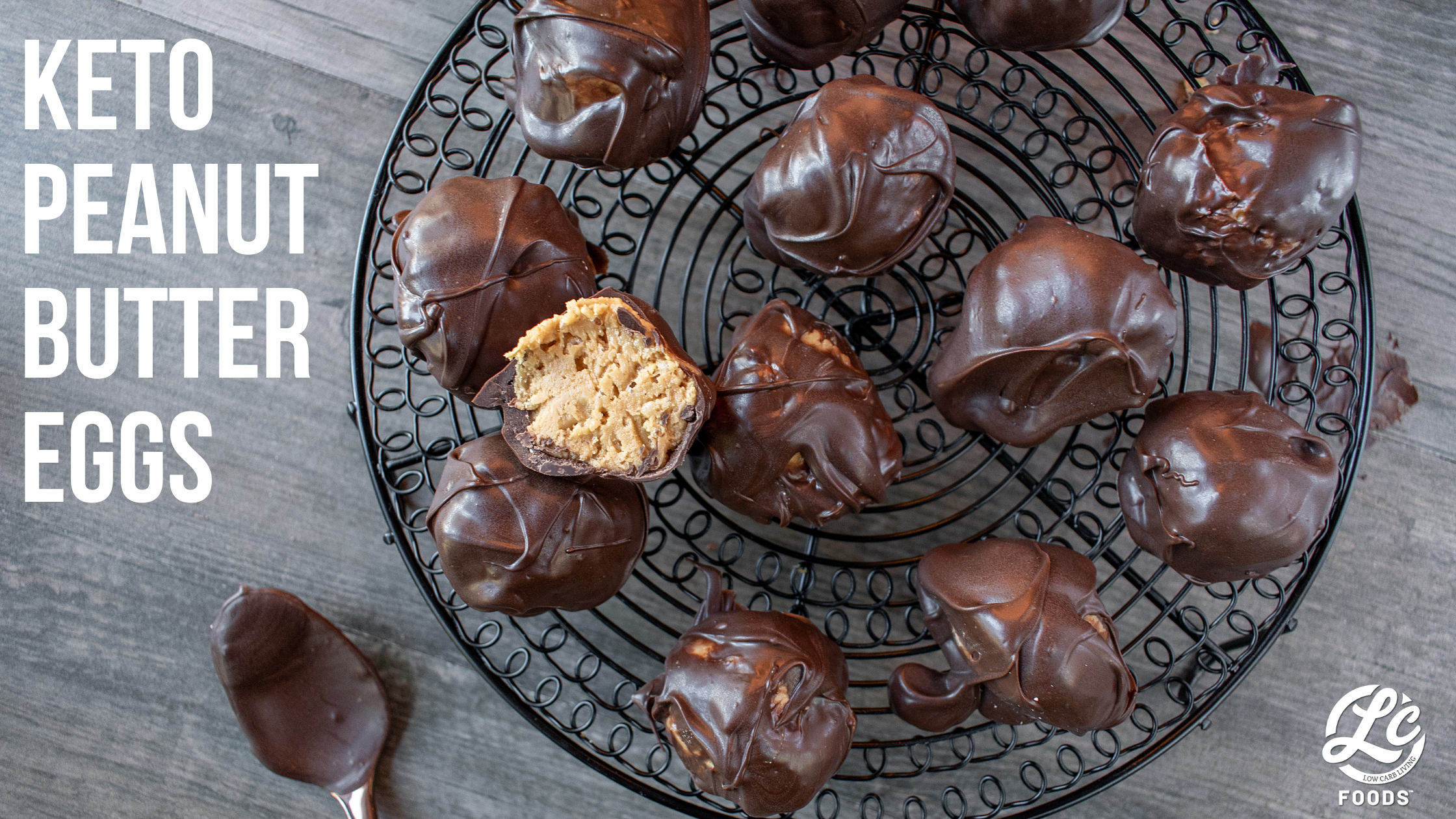 Ingredients:
2/3 cup peanut butter, no sugar added
2/3 cup LC Peanut Butter Powder
2 tablespoons softened butter or coconut oil optional
1/2 teaspoon vanilla
2 teaspoon coconut oil
Method:
Line a baking sheet with wax paper and set aside.
In a large mixing bowl, combine the peanut butter, LC Peanut Butter Powder, LC Confectionary Powdered Sweetener Erythritol, and vanilla. Mix thoroughly. You may need to use your hands to incorporate all the peanut butter powder. If it seems a little dry add 1-2 tablespoons softened butter or coconut oil.
Divide the mixture into 10 portions and roll into egg shapes.
Put them on the prepared baking sheet lined with wax paper and refrigerate for an hour until firm enough to dip.
Melt the LC Sugar Free Chocolate Chips and 2 teaspoons of coconut oil in the microwave in short increments, stirring every 20-30 seconds until it is smooth and completely melted.
To cover the eggs, use a spoon to dip them in the bowl of melted chocolate. Cover the top and then lift out the egg, tilting the spoon to allow the excess chocolate to drip off.
Repeat for all of the eggs and place them back on the lined cookie sheet, return to refrigerator until they firm up and then store in a covered container. Enjoy!
All LC Foods products have full nutritional detail on their labels and website. Total carb counts for a full recipe will vary and depend on the other ingredients used. Please refer to free apps, such as My Fitness Pal, My Net Diary or Carb Manager, to calculate nutritional information.