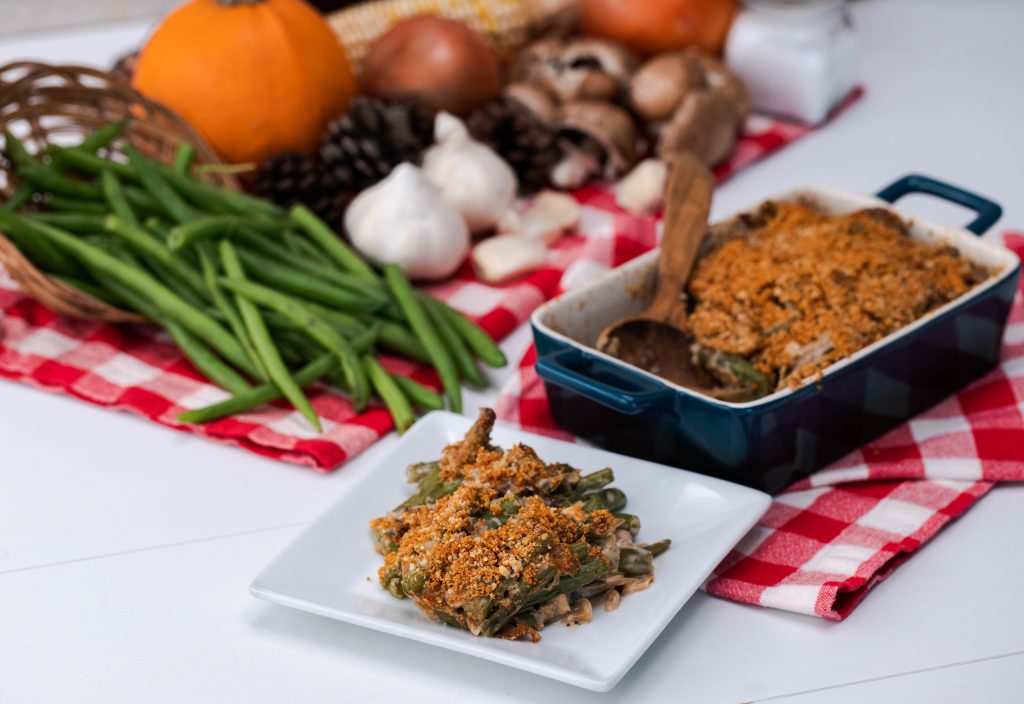 Prep Time: 15 minutes
Cook Time: 35 minutes
Total Time: 50 minutes
Servings: 4-6

Ingredients
3 cups fresh green beans, sliced into smaller pieces
2 tablespoons olive oil
2 1/2 cups button mushrooms, sliced
2 small onions, sliced
1 garlic cloves, minced
1/4 cup cream cheese
1/2 cup chicken stock
1 teaspoon LC Thick'n Saucy
1/4 cup parmesan, grated
1/4 teaspoon nutmeg, freshly grated
1/4 cup LC Seasoned Bread Crumbs
salt and ground black pepper, to taste
Directions
Preheat the oven to 400ºF
Boil the green beans in well salted water until fork tender. Approximately 10 minutes. Drain the water and set aside.
While the green beans boil, mix the Thick'n Saucy with the chicken stock and set aside.
Heat oil over medium low heat. Sauté the onions, mushrooms and garlic until caramelized, about 15-20 minutes. Season with salt, pepper and the nutmeg.
Add the chicken stock mixture and be sure to scrape all the bits from the bottom of the pan.
Add the cream cheese and allow it to melt and warm up. Taste test and add salt if needed.
Mix in the green beans until everything is evenly combined and transfer everything into a casserole dish.
Top with parmesan and LC Seasoned Bread Crumbs. Bake about 10-15 minutes, or until the casserole is bubbling and the bread crumbs have toasted.