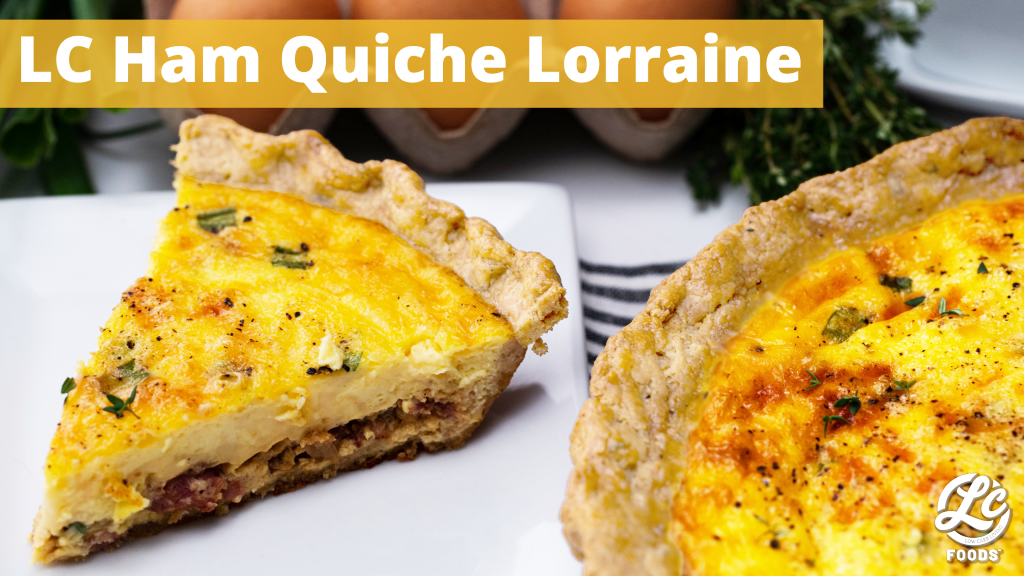 Cook Time: 1 hour
Prep Time: 1 hour 15 minutes
Total Time: 2 hours 15 minutes
Servings: 8
Ingredients:
LC Pie Crust
1 bag LC Pie Crust Mix
8 oz (one stick) of butter frozen
6 Tablespoons shortening frozen
3 Tablespoons + 1 teaspoon heavy cream
1 Tablespoon white vinegar
3 Tablespoons + 1 teaspoon water
1 tablespoon fresh thyme, roughly chopped
Quiche Filling
3 tablespoons butter
1 cup onion, diced
1 cup fennel bulb, diced
2 cup ham, chopped
2 tablespoon green onion, sliced
Custard
4 large eggs
1 cups heavy cream
1/4 cup whole milk
zest of 1/2 lemon, minced
1/4 teaspoon pepper
1 pinch ground nutmeg
4 ounces smoked Gouda cheese, freshly shredded
Directions:

Make LC Pie Crust Mix according to package instructions, adding thyme in with the dry mix. Reserve one dough ball (can be frozen). Roll out the other dough ball and fit into your pie pan. Roll the edges under and pinch to form a fluted edge. Cover in plastic wrap and refrigerate for one hour.
Next, start the quiche filling by caramelizing the onions and fennel. Heat 2 tablespoons of butter up in a saute pan over medium low heat, and cook onions and fennel until they have started to develop a rich brown color, about 15 minutes.
Add the last tablespoon of butter and diced ham into the pan and sauté until browned. Set aside to cool.
Parbake the pie crust by coating with egg wash and baking at 425 F for 10-15 minutes. After cooling a couple of minutes, fill evenly with the caramelized mix.
Mix all of the custard ingredients together with a whisk. Pour the custard mix evenly over the filling, and top with fresh cracked black pepper.
Bake in the lower third of the oven at 350 F for 30-45 minutes or until the middle stops jiggling and the top is nice and browned. Remove from the oven and let cool for 10-15 minutes.
Garnish with fresh thyme.