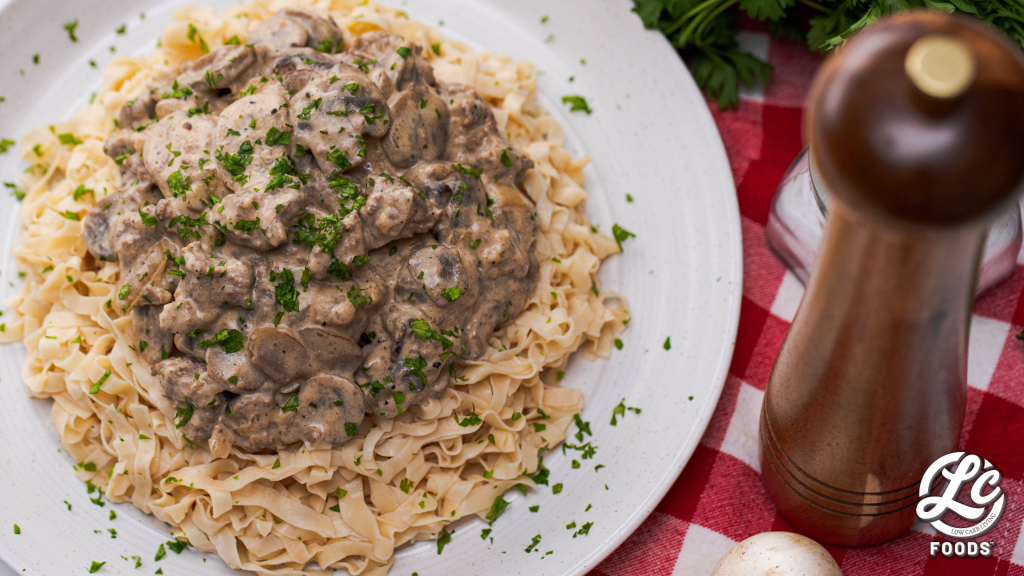 Prep Time: 10 minutes
Cook Time: 30 minutes
Total Time: 40 minutes
Servings: 4 persons

Ingredients:
3 tbsp. butter, divided
1 lb. 80% lean ground beef
Kosher salt
Freshly ground black pepper
1 1/2 lb. mushrooms, sliced
1 small onion, thinly sliced
1 garlic clove, minced
1 cup low-sodium beef stock or bone broth
4 oz. cream cheese
1/2 cup sour cream
2 teaspoon Worcestershire sauce
2 teaspoon Dijon mustard
1/2 teaspoon LC Thick'n Saucy
1/2 teaspoon paprika
Finely chopped parsley, for garnish
Directions:
Cook LC Buttery Pasta Noodles according to package instructions.
Heat a large skillet over medium high and melt 1 tablespoon of butter. Add ground beef and season with salt and pepper. Cook beef, stirring occasionally, until cooked through, about 10 minutes. Transfer meat to a plate.
Return the skillet to medium-high heat and add remaining butter, onions, and mushrooms. Cook, stirring occasionally, until mushrooms are golden, about 7 minutes. Allow all moisture to cook out. Season with salt and pepper and add garlic. Cook until fragrant, 1 minute. Add broth, cream cheese, sour cream, Worcestershire, Dijon, LC Thick'n Saucy, and paprika to skillet. Bring to a simmer, while stirring. Let simmer for about 10 minutes to allow thickening.
Return beef to skillet and stir to combine. Serve over the LC Buttery Pasta Noodles and garnish with parsley.