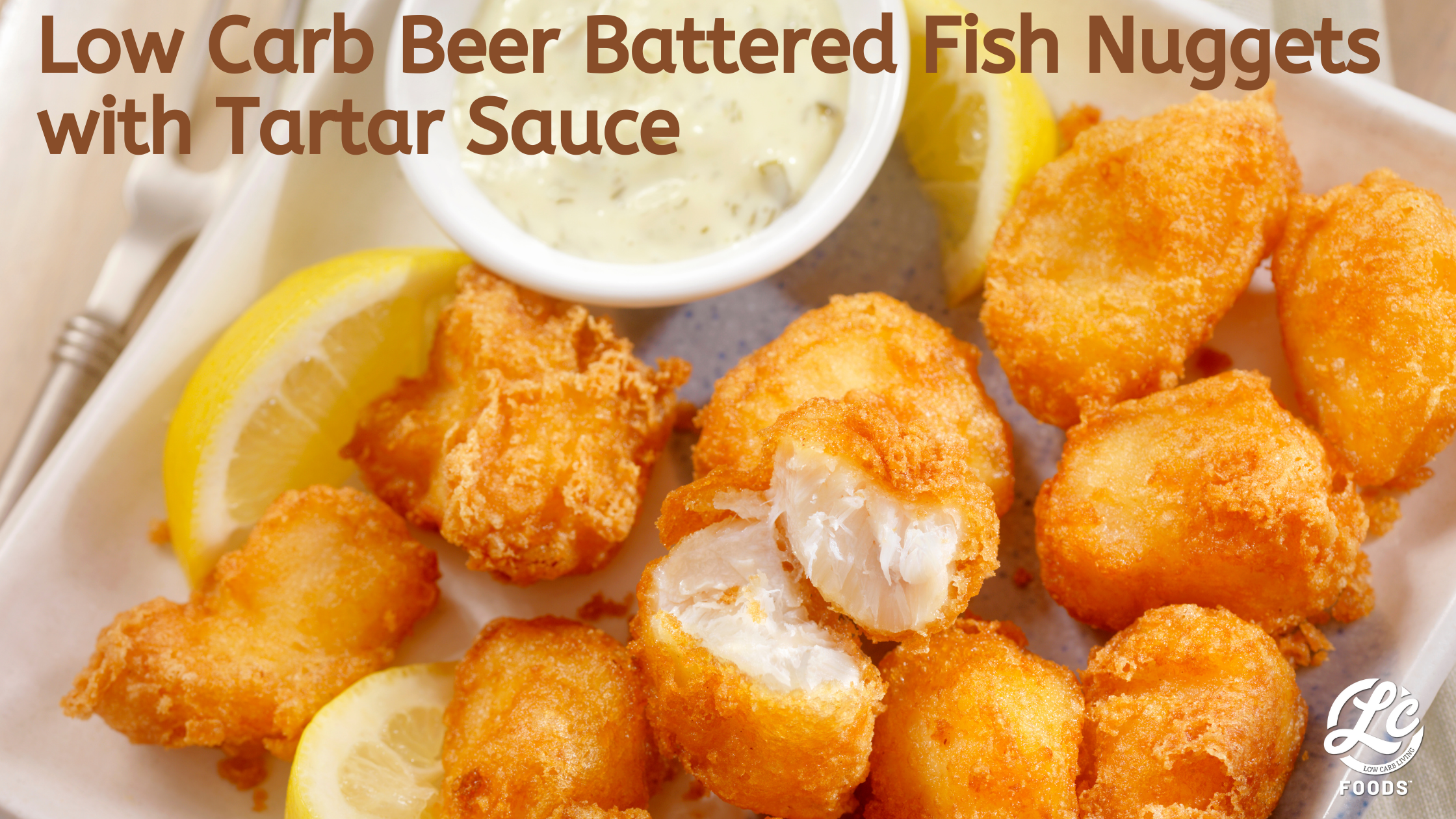 Ingredients:
Tartar Sauce:
1/2 cup mayonnaise
3 tablespoons dill relish
1.5 tablespoons fresh dill, chopped
1 tablespoon lemon juice
1 teaspoon brown mustard
1 teaspoon minced garlic
1/2 teaspoon onion powder
Salt and Pepper to taste
Beer Battered Fish Nuggets:
1 lb. cod filets (or fish of your choice)
1 cup LC White Bread Flour for dredging
1–1/2 cups LC White Bread Flour
1 teaspoon salt
1 teaspoon pepper
½ teaspoon onion powder
1 teaspoon paprika
1 12 ounce can low carb beer
Lemon wedges for serving
Frying oil of your preference
Method:
Combine all ingredients for the Tartar Sauce into a bowl and stir well.
Place in an airtight container and refrigerate while you prepare the fish.
Cut the fish into bite sized pieces and blot with a paper towel.
Prepare one bowl with 1 cup LC White Bread Flour for dredging the fish.
In another bowl, mix the 1-1/2 cups LC White Bread Flour, salt, pepper, onion powder and paprika. Slowly add the beer and whisk to combine well.
Heat about 2 inches of oil in a heavy skillet over medium high. The oil will be hot enough when you can drip a bit of the batter into it, and it sizzles.
Dredge the fish nuggets in the LC Flour and then into the batter and gently add them to the hot oil. You may need to do this in batches.
Once they start to brown, turn them over and brown the other side.
When they are done, take them out of the oil and drain on a paper towel lined plate.
Serve hot, with lemon wedges and tartar sauce.
All LC Foods products have full nutritional detail on their labels and website. Total carb counts for a full recipe will vary and depend on the other ingredients used. Please refer to free apps, such as My Fitness Pal, My Net Diary or Carb Manager, to calculate nutritional information.