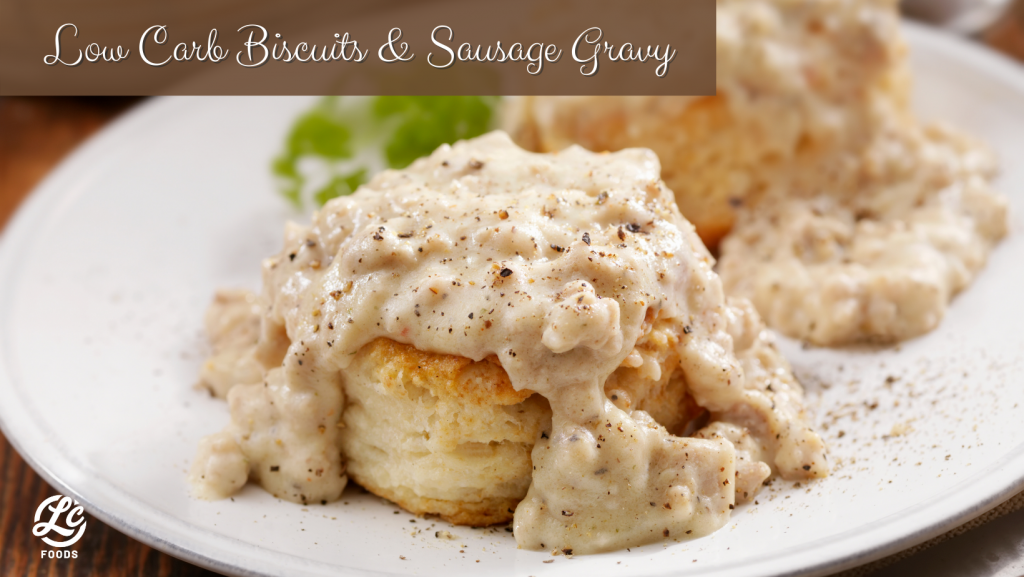 Prep Time: 15 minutes
Cook Time: 20 minutes
Total Time: 35 minutes
Servings: 3-6 servings

Ingredients:

1 tablespoon butter
12 ounces breakfast sausage
1/3 cup chopped onion
1 cup chicken broth
1 cup heavy cream
8 ounces cream cheese cubes
1/2 teaspoon LC Thick'n Saucy
1 1/2 teaspoons garlic powder
1/2 teaspoon sea salt
1/2 teaspoon fresh ground black pepper
1 pack LC Classic Country Biscuits
Directions:

Preheat the oven to 350 F.
Heat butter in a saucepan over medium heat.
Add the sausage and cook, breaking up the meat, for about 6 minutes, or until the sausage is no longer pink.
Add in the onion and cook for 2 minutes.
Stir in broth, heavy cream, cream cheese, LC Thick'n Saucy, garlic powder, salt, and fresh ground black pepper.
Bring to a simmer, whisking constantly.
Reduce to medium-low. Simmer, stirring regularly, until the mixture thickens, about 10 minutes.
While the gravy is thickening, bake the LC Classic Country Biscuits for about 5-8 minutes or until just heated through.
Serve the biscuits with the gravy and two eggs sunny side up (or however preferred). Enjoy!