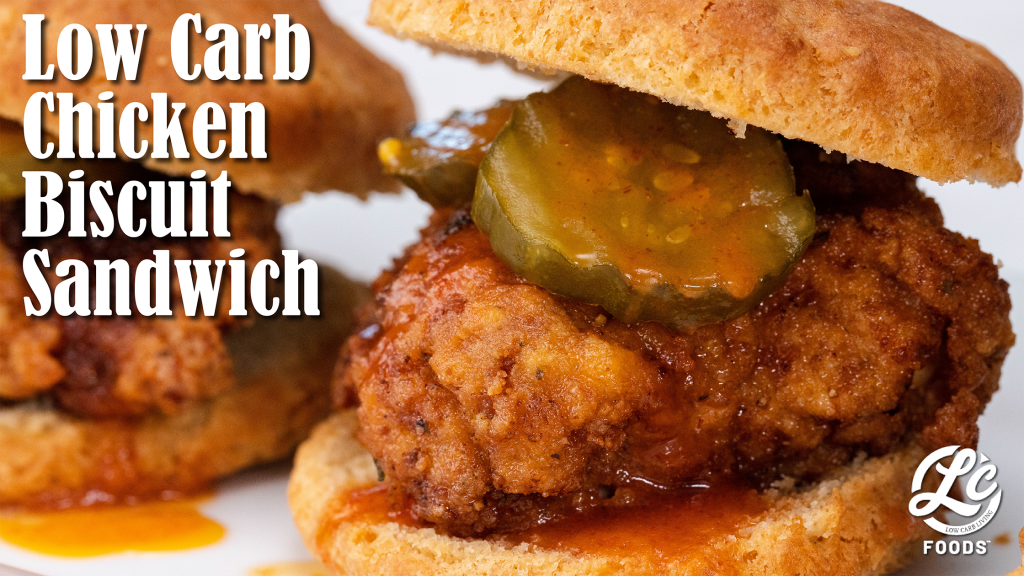 Prep Time: 35 minutes
Cook Time: 15 minutes
Total Time: 50 minutes
Servings: 6
Ingredients:
6 3 oz skinless chicken breasts
8 cups peanut oil
1 cup buttermilk
½ cup pickle juice
2 eggs
¾ cup LC White Bread Mix
¾ cup LC Seasoned Bread Crumbs
½ tsp garlic powder
½ tsp onion powder
½ tsp salt
¼ tsp black pepper
¼ tsp cayenne
1 tsp LC Brown Sugar Sweetener (erythritol or inulin)
5 tbsp butter, melted, divided
2-3 tsp sriracha, optional
Bread and Butter pickle chips, for serving
Method:
Start by combining the buttermilk and pickle juice. Place the chicken breasts into the brine and massage slightly. Let brine for at least 30 minutes.
Preheat the oven to 350 F.
Whisk the two eggs together in a bowl big enough to dip the chicken breasts in. Set aside.
Now combine the bread mix, seasoned bread crumbs, garlic powder, onion powder, salt, pepper, cayenne, and brown sugar sweetener. Place on a plate for dredging the chicken. Set aside.
Heat the peanut oil over low/medium-low heat until it shimmers and has reached around 275F.
Take the chicken out of the brining mix, dip it into the egg, and coat both sides with the dredge mixture. Fry in the peanut oil for 3-4 minutes per side or until golden brown and the chicken has reached an internal temperature of 165 F. (cook chicken in batches so as not to overcrowd the pan) Set chicken on a paper towel lined plate.
Heat the biscuits by brushing the tops and sides with 2 tbsp of melted butter and baking them in the oven for 5-8 minutes, or until heated through.
Make an optional spicy sriracha butter by mixing the sriracha with the 3 tbsp of melted butter.
Cut the biscuits in half, spread butter on both sides, and place chicken on the bottom half. Top with pickle chips, more butter, and serve hot!