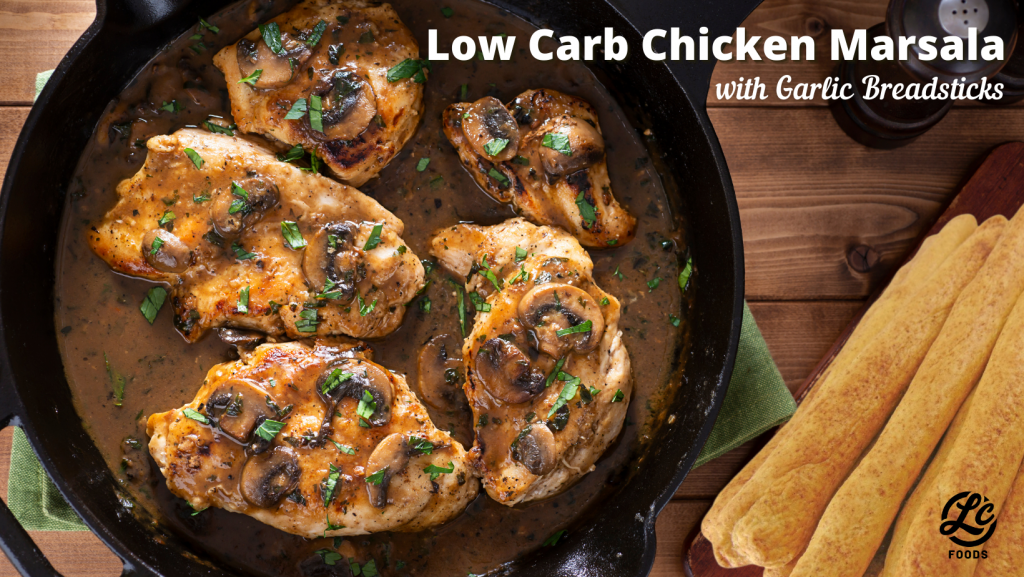 Ingredients:
Method:
Combine marsala wine and chicken broth in a saucepan and bring to a boil. Reduce the heat to medium-low and simmer until reduced to about 1 cup. This will take about 15 minutes
Meanwhile, slice the chicken breasts the long way to make 4 thinly sliced breasts. If necessary, pound them between two sheets of parchment paper to an even thickness.
Dredge the chicken breasts into the Low Carb White Bread Flour.
In a cast iron skillet over medium-high heat, melt 1 Tbsp butter and 1 Tbsp olive oil. Sear the chicken breasts for 4-5 minutes per side, until fully cooked.
Transfer the chicken to a plate and cover with foil to keep warm.
Reduce the heat on the skillet to medium and add the remaining butter and olive oil. Sautè the mushrooms until golden brown, about 7 minutes. Add in the minced garlic and cook for 1 minute.
Add the reduced marsala wine, thyme and oregano to the cast iron skillet. Scrape up the browned bits and bring the sauce to a simmer.
In a small bowl, whisk 1 Tbsp chicken broth with the LC Thick'n Saucy. Add this to the simmering sauce and stir until thickened.
Remove the skillet from the heat and add in the heavy cream. Season with extra salt and pepper. Add the chicken back to the pan and garnish with fresh parsley.
Enjoy this delicious meal with warm Low Carb Garlic Breadsticks!