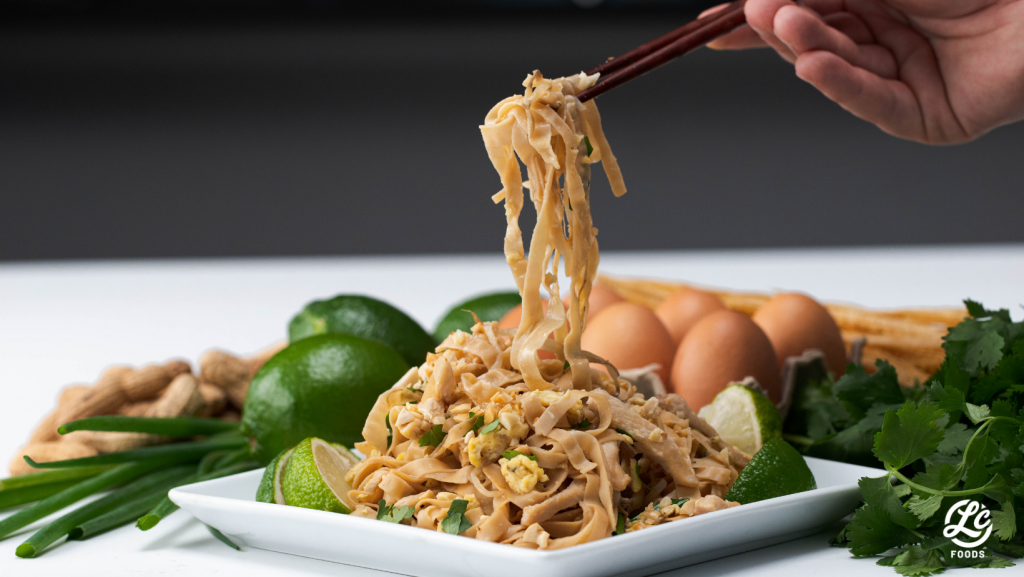 Prep Time: 30 minutes
Cook Time: 15 minutes
Total Time: 45 minutes
Servings: 4

---
Ingredients:

Sauce:
Pad Thai:
Water for boiling
2 tablespoons sesame oil
4 green onions, sliced, greens and whites separated
2 cloves garlic, minced
1 pound boneless, skinless chicken breasts, cut into thin strips
2 eggs, whisked
1 cup bean sprouts
¼ cup torn cilantro leaves, for garnish
¼ cup chopped peanuts, for garnish
¼ teaspoon red pepper flakes, for garnish
1 lime, quartered, for garnish
Directions:
Combine all ingredients for the sauce in a small bowl and set aside, for at least 10 minutes, while preparing the rest of the recipe.
Heat water to a boil, add in the LC Fettuccine Pasta Noodles and boil for 2-3 minutes. Rinse with cold water, to stop cooking, and set aside.
Heat sesame oil in a wok over medium high heat. Add in the white parts of the green onions, and the garlic and cook until garlic is fragrant, 30 seconds to 1 minute. Add in the chicken strips and stir fry until browned and cooked through.
Add in bean sprouts and stir fry for 1-2 minutes. Push the chicken and bean sprout mix to the outskirts of the wok, leaving an open round space in the center. Add the whisked eggs to the center and scramble until almost cooked through.
Push the eggs to the outskirts, and add noodles back into the center. Pour half the sauce over the noodles and the other half over the chicken mixture. Now, stir fry it all together for an additional 2-3 minutes, taking care not to break the noodles. Add in the green onions just before taking it off the heat.
Serve immediately and garnish with cilantro leaves, chopped peanuts, and freshly squeezed lime juice.