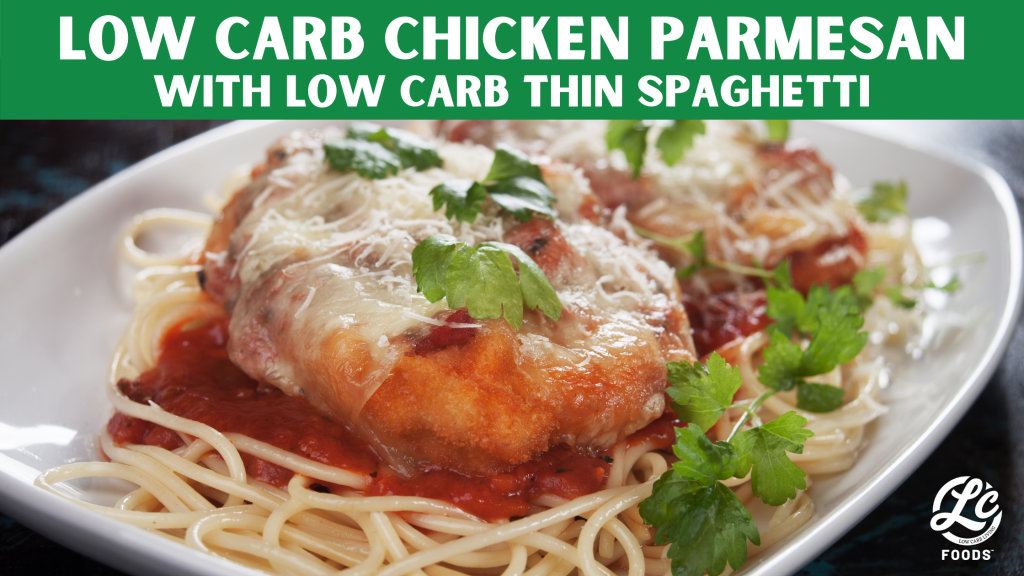 Ingredients:
1-1/2 cups LC Seasoned Bread Crumbs
1/2 teaspoon garlic powder
1/4 cup freshly grated Parmesan, plus more for garnish
2 large eggs, beaten with 1 tablespoon water
1/2 cup LC Tempura Mix
1-1/2 pounds boneless skinless chicken cutlets
Kosher salt
Freshly ground black pepper
Vegetable oil
1 cup shredded mozzarella
2 tablespoons extra-virgin olive oil
1/2 small onion, finely chopped
4 cloves garlic, sliced
1 – 28 ounce can crushed tomatoes (no sugar added)
1/4 cup water
Kosher salt
Freshly ground black pepper
Pinch crushed red pepper flakes
2 tablespoons freshly chopped parsley or basil, plus more for garnish
Method:
Preheat oven to 400º. Prepare breading station with three large bowls: one bowl with a mixture of LC Seasoned Breadcrumbs, garlic powder, and Parmesan cheese; another with the egg & water mixture; and the third bowl with LC Tempura Mix.
Season chicken with salt and pepper, then coat each piece of chicken in LC Tempura Mix and shake off excess. Dip chicken into egg mixture and then into bread crumb mixture, pressing the breadcrumbs to the chicken; repeat steps for remaining chicken and set aside until you are finished breading all of it.
Heat about ¼" oil in a deep skillet. When the pan is hot, add chicken. Cook until golden brown, 5 to 7 minutes, flipping halfway through. Transfer the chicken to a paper towel-lined plate to drain.
To make the marinara, heat the olive oil in a medium pot. Add onion and garlic and cook until soft, 4 minutes. Add the crushed tomatoes and water, season with salt, pepper, and red pepper flakes, and let simmer for about 10 minutes. Stir in the basil and remove from heat.
Pour the sauce into a 9″-x-13″ baking dish and lay the cooked chicken on top. Spoon some of the sauce over the chicken and top with mozzarella. Bake until cheese is melted, 10 to 12 minutes and then broil for about 3 minutes until cheese is golden, if desired.
While the chicken and sauce are baking, bring a pot of salted water to boil and cook the LC Thin Spaghetti Pasta 3 to 5 minutes. Drain the pasta in a colander and serve topped with the chicken and sauce. Garnish with chopped parsley or basil.