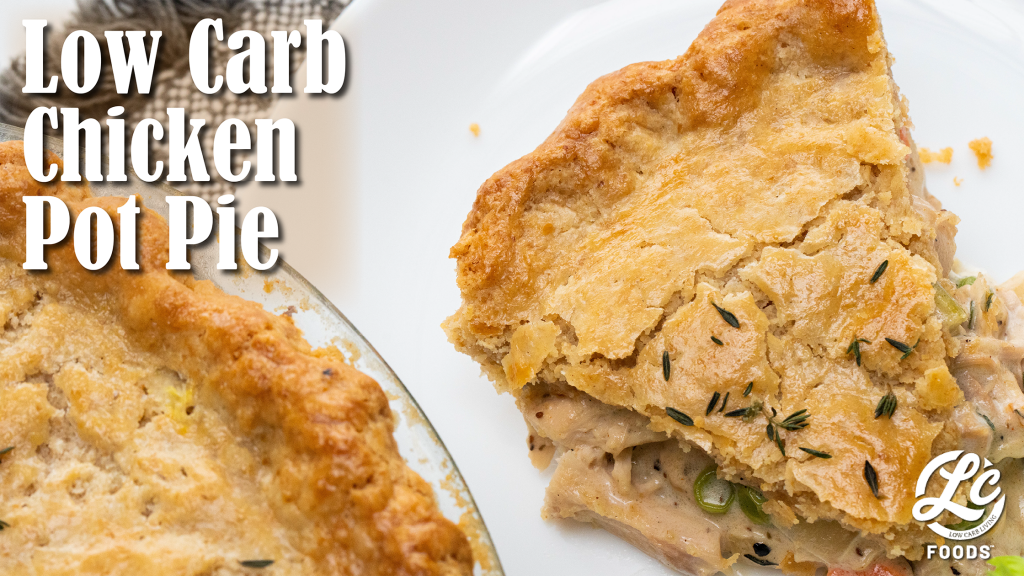 Prep Time: 1 hour 15 minutes
Cook Time: 45 minutes
Total Time: 2 hours
Servings: 8
Ingredients:
Crust:
1 package LC Pie Crust Mix
½ cup unsalted butter, frozen
6 tbsp shortening, frozen
3 tbsp + 1 tsp heavy cream
1 tbsp white vinegar
3 tbsp + 1 tsp water
Filling:
2 tbsp unsalted butter
⅓ cup diced celery
⅔ cup diced onion
⅓ cup diced carrot
3 garlic cloves, minced
1 ½ cups chicken broth
3 oz cream cheese, softened
⅓ cup heavy cream
¼ tsp poultry seasoning
¼ tsp celery seed
Salt and black pepper, to taste
2 tsp LC Thick'n Saucy
2 cups shredded cooked chicken
⅓ cup peas, frozen
1 tbsp fresh thyme, chopped
1 egg
1 tbsp water
Method:
Start by preparing the LC Pie Crust according to package instructions. Split dough in two, take ½ the pie dough, roll out, and place into a pie plate. Leave the edge of the dough hanging over the pie pan rim. Roll out the other half so that it is large enough to cover the top of the pie with extra dough to allow for shrinking and filling. Refrigerate both pie crust, separately, for 1 hour.
While the crust is chilling, prepare the filling. Melt the butter over medium heat and add the celery, onion, and carrots. Saute until veggies have softened, about 5 minutes. Add garlic and saute until fragrant, about 30 seconds. Add the chicken broth, cream cheese, and heavy cream, whisking until smooth. Add the poultry seasoning, celery seed, and salt and pepper to taste.
Once the pot pie mixture is combined, reduce heat to low and sprinkle Thick'n Saucy over the mixture. Whisk in quickly. Keep simmering until mixture thickens, about 10 minutes. Add more Thick'n Saucy to thicken or more cream to thin out to desired thickness.
Stir in shredded chicken, frozen peas, and ½ tbsp fresh thyme. Turn off heat.
Preheat the oven to 425F.
Pour mixture into the bottom pie crust and top with the remaining pie crust pressing the top and bottom crust together. Pinch to seal. Use a knife or scissors to cut the extra dough off around the rim of the pie plate. Crimp the edges.
Whisk the egg and water together, and brush the top pie crust with egg wash. Sprinkle with remaining thyme.
Bake for 25-30 minutes or until the crust is brown. Cover the pie halfway if it begins to brown too much.
Let cool for 10 minutes before serving.