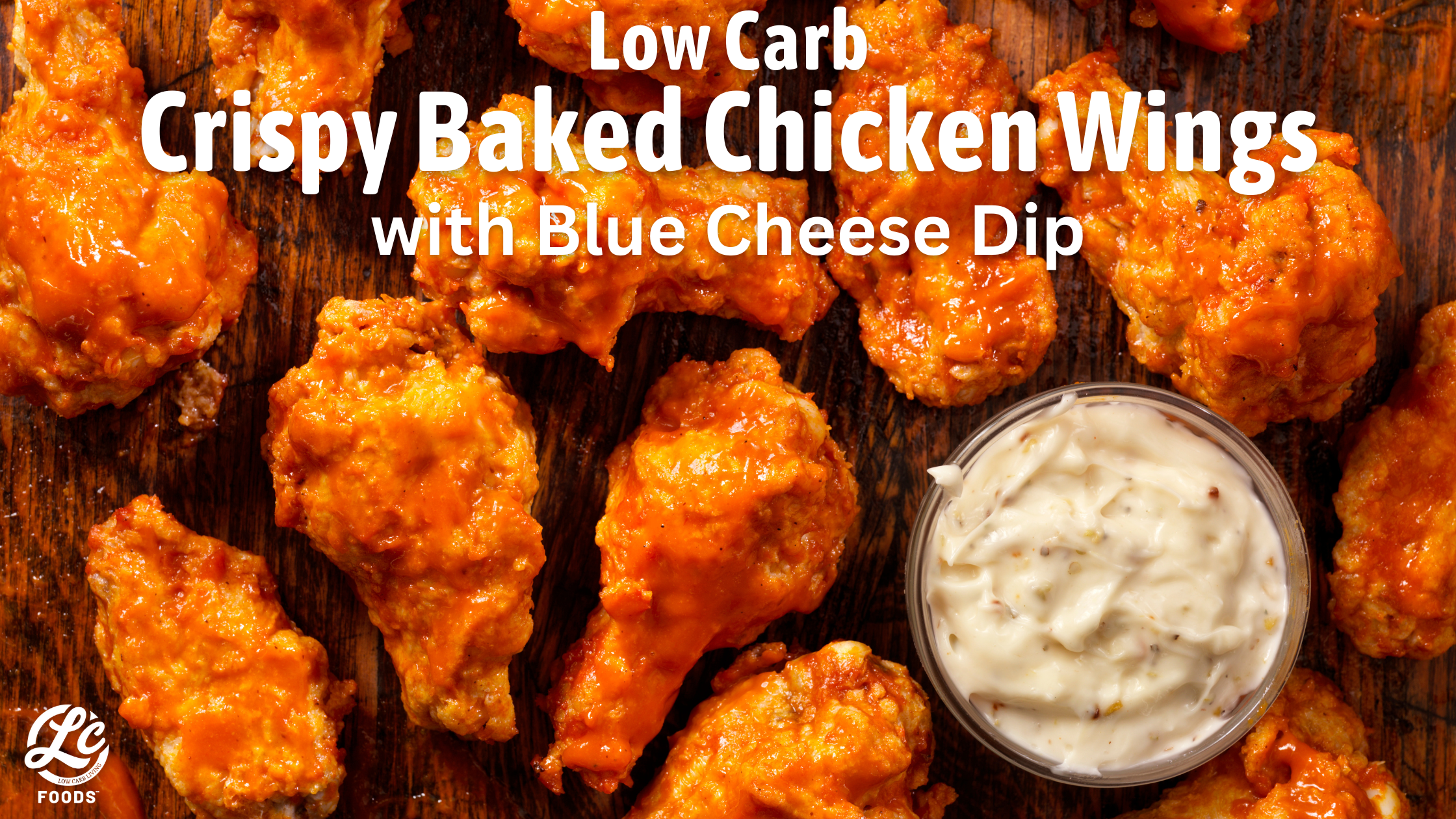 Ingredients:
2 pounds chicken wings, flats and drumettes
2 tablespoons olive oil OR two beaten eggs (*see note)
1 cup LC Gluten Free Breading & Crusting Mix (or more if needed)
1 tablespoon smoked paprika
4 tablespoons butter
2 tablespoons cayenne hot sauce (more or less to taste)
1-1/2 cups sour cream
¾ cup mayonnaise
½ pound crumbled blue cheese
Celery sticks
Method:
Preheat the oven to 425 degrees F. Prepare a baking sheet by covering with foil or parchment paper and spray with non-stick spray.
Toss the chicken wings with the olive oil. This will allow the breading to stick better. *Optionally, you can dip the wings in beaten eggs.
Add the LC Gluten Free Breading & Crusting Mix and smoked paprika to a gallon size zipper bag. Seal the bag and shake to combine. Add the moistened chicken wings and toss to thoroughly coat.
Place the wings on the prepared baking sheet and spray them lightly with cooking spray. Bake for 20 minutes, turn them over and bake an additional 10-15 minutes until crispy and golden brown.
While the wings are baking, make the blue cheese dip by mixing together the sour cream, mayonnaise and blue cheese crumbles in a bowl.
In a small microwave safe bowl, melt the butter. Add the hot sauce and stir to combine. When the wings are finished baking, pour the sauce over the wings and toss to coat.
Arrange on a plate with celery sticks and blue cheese dip. Enjoy!
All LC Foods products have full nutritional detail on their labels and website. Total carb counts for a full recipe will vary and depend on the other ingredients used. Please refer to free apps, such as My Fitness Pal, My Net Diary or Carb Manager, to calculate nutritional information.