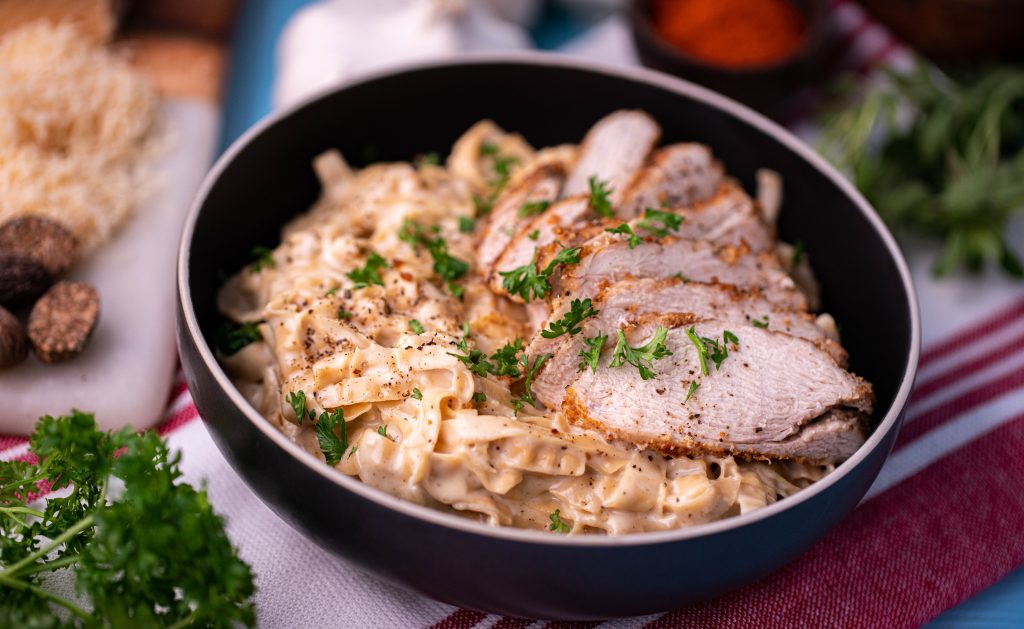 Ingredients:
2 Tablespoons butter
2 garlic cloves, minced
1/4 teaspoon nutmeg
1/4 teaspoon cayenne
1/4 teaspoon oregano
1 1/2 cups heavy cream
1 Tablespoon cream cheese
2 teaspoons LC Thick'n Saucy
1/2 cup parmesan cheese, shredded
1/4 cup asiago cheese, shredded
1 1/2 teaspoon salt
1 1/2 teaspoon pepper
2 skinless chicken breasts
2 Tablespoons LC Seasoned Bread Crumbs
1 package LC Fettuccine Pasta
Fresh parsley, for garnish
Instructions:
Heat a medium saucepan to medium temperature on the stove. Melt the butter then add the garlic. Stir and cook until fragrant. Add in nutmeg, cayenne, and oregano then stir well into the butter.
Add the heavy cream and mix to roughly combine butter and spices. Add the thick 'n saucy and cream cheese then whisk well until cheese melts and sauce becomes thick and smooth.
Add in the parmesan and asiago then mix until the cheese melts. Mix in the ½ teaspoon salt and pepper. Reduce temperature to low and cover with lid.
Season the chicken breasts with the rest of the salt and pepper then coat with bread crumbs. Put on a skillet on the stove at medium-high heat with a little bit of oil and cook chicken until the internal temperature is 160 degrees. Take away from heat once done.
Bring a pot halfway filled with water to a boil. Put in the fettuccine and cook for 3-5 minutes, stirring occasionally. Strain noodles immediately and let dry for 5 minutes.
Once most of the water has evaporated from the noodles, add them to a mixing bowl with the alfredo sauce and mix to thoroughly coat noodles.
Slice the chicken breasts into strips and place on top of each serving of pasta. Garnish with chopped fresh parsley.
Notes:
To cook the chicken breasts faster, either butterfly the cuts or cover with a lid while cooking in the pan.
Watch instructional video on YouTube.