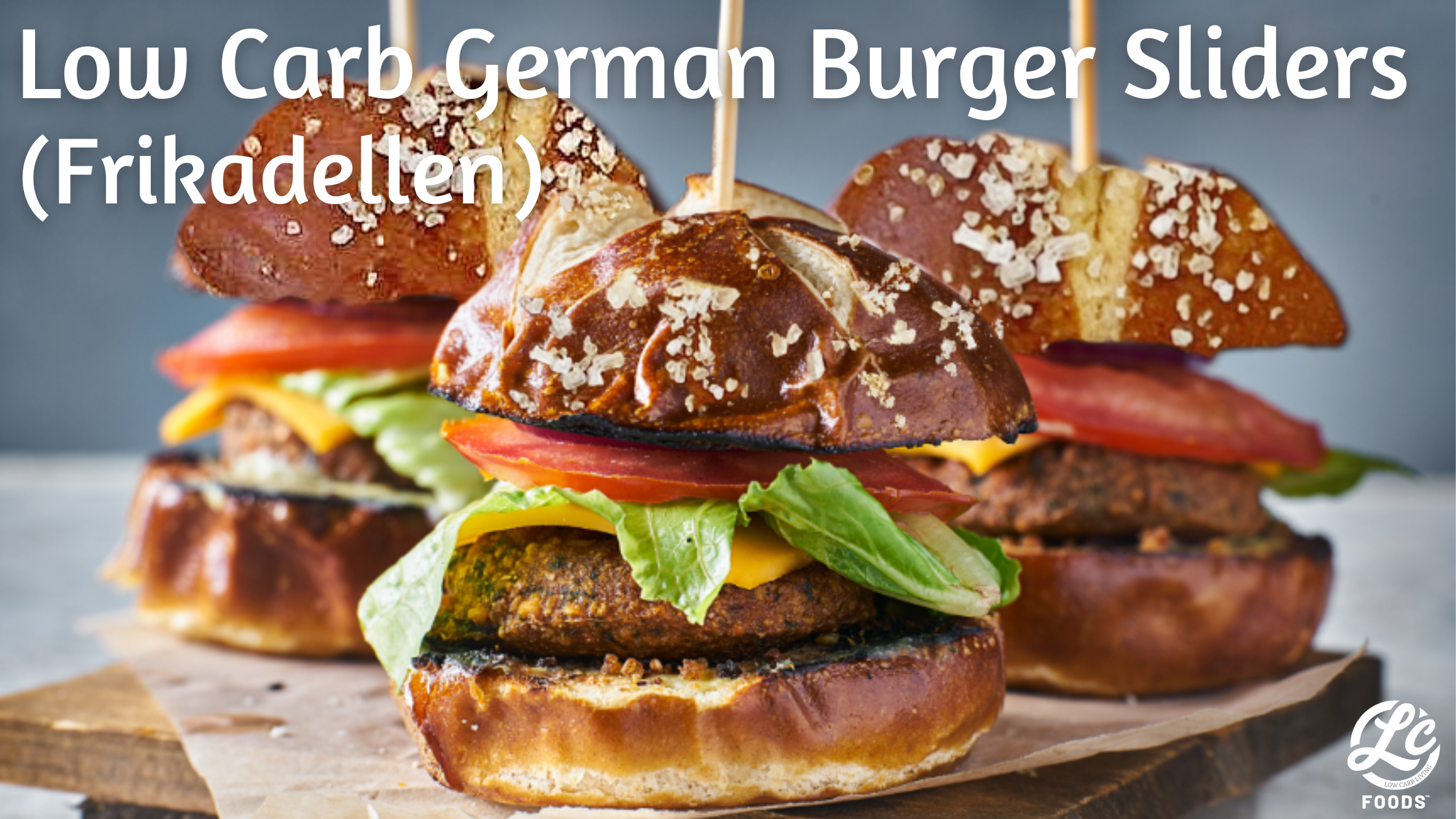 Ingredients:
1 package LC German Pretzel Rolls
½ pound ground beef
½ pound ground pork
1 whole egg
1 clove garlic, minced
1 medium onion finely chopped
1 LC Soft Baked Hamburger Roll or 2 slices LC Hearty White Bread
1 tablespoon coconut aminos or soy sauce
1 teaspoon prepared mustard
1 tablespoon smoked sweet paprika
2 tablespoons parsley minced
1 teaspoon salt
½ teaspoon pepper
1 cup LC Seasoned Bread Crumbs for breading
Sliced cheese, lettuce, tomato if desired for topping
2 tablespoons butter
3 tablespoons olive oil
Method:
Tear the LC Soft Baked Hamburger Roll or LC Hearty White Bread into pieces and soak them in a bowl with about ½ cup of water.
In a separate large bowl and whisk the egg with a fork. Add ground beef, ground pork, chopped onions, garlic, soy sauce, mustard, paprika, parsley, salt, and pepper.
Squeeze the water out of the LC Soft Baked Hamburger Roll and gently mix into the meat mixture. If the mixture is too wet, add a bit of LC Seasoned Bread Crumbs.
Shape the meat mixture into five patties about the size of the LC German Pretzel Roll.
Pour the LC Seasoned Bread Crumbs into a plate and coat each patty on both sides.
Preheat a skillet on the stove on medium-high heat and add the butter and olive oil.
When the oil and butter are hot, brown the patties on each side. Reduce the heat to medium and cook for 9-10 minutes until they are cooked through to your liking.
Remove the patties and place them on a plate with a paper towel to drain excess grease.
Slice and toast the LC German Pretzel Rolls. Add desired toppings (lettuce, tomato, cheese – any low carb toppings you love) along with the burger patty and enjoy!
All LC Foods products have full nutritional detail on their labels and website. Total carb counts for a full recipe will vary and depend on the other ingredients used. Please refer to free apps, such as My Fitness Pal, My Net Diary or Carb Manager, to calculate nutritional information.