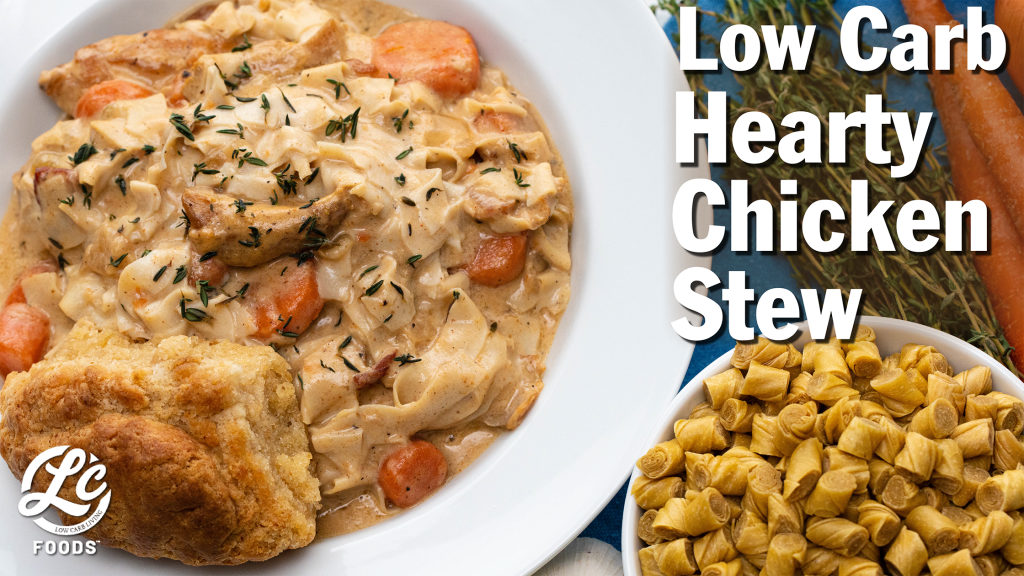 Prep Time: 15 minutes
Cook Time: 1 hour 45 minutes
Total Time: 2 hours
Servings: 6
Ingredients:
4 slices bacon, cut into thick slices
2.5 lbs boneless skinless chicken thighs, cut in half horizontally and trimmed
2 tbsp butter
4 carrots, peeled and cut into ½-inch pieces
1 small yellow onion, diced
1 celery rib, diced
2 cloves garlic, minced
½ tsp smoked paprika
2 tsp LC Thick'n Saucy
3-5 cups unsalted chicken broth, divided
1 cup dry white wine
2 tsp worcestershire sauce
2 tsp balsamic vinegar
1 tsp fresh thyme leaves, plus more for garnish
8 oz cream cheese, softened
Salt and ground black pepper to taste
1 package LC Fresh Baked Angel Rolls
Method:
Place oven rack to lower-middle position and preheat oven to 325 degrees F.
Cook bacon in a large Dutch oven, over medium-low heat, until bacon browns then transfer bacon to a large bowl. Turn heat to medium-high.
In small batches, sear the chicken thighs in the bacon fat. Place seared chicken in the bowl with the bacon.
Reduce heat to medium, add butter and place the carrots in the Dutch oven and cook carrots until softened. Add the diced onion and celery and cook until onion is translucent and celery has softened. Add minced garlic and cook for 30 seconds until it is fragrant.
Increase heat to medium-high. Add 1 cup wine, 1 cup chicken broth, balsamic vinegar, and worcestershire sauce. Scrape the brown bits from the bottom of the pan and bring the mixture to a boil. Reduce heat to medium-low, and cook, stirring occasionally, until liquid reduces and vegetables start to sizzle, 12-15 minutes.
Add the remaining 2-4 cups of broth, smoked paprika, fresh thyme, and cream cheese. Whisk until smooth. Turn off heat. Taste, and season with salt and pepper.
Transfer stew to the oven. Cook, uncovered, for 30 minutes, stirring once halfway through cooking.
Transfer pot to stovetop, and use a wooden spoon to scrape off the sides of the pot into the stew. Stir well. Whisk in Thick'n Saucy. Add chicken thighs and bacon.
Return pot to oven and continue cooking, uncovered, 45 minutes or until chicken and vegetables are tender. Stir occasionally.
While stew bakes, boil the water for the buttery egg noodles and cook them for 3-4 minutes at a slow rolling boil. Drain, rinse, and set into bowls for serving.
Toward the end of the stews baking time, add the angel rolls directly onto the oven rack, and heat for 5-10 minutes or until warmed through.
Serve the stew over the top of the egg noodles. Garnish with chopped thyme, and enjoy with a warm angel roll!