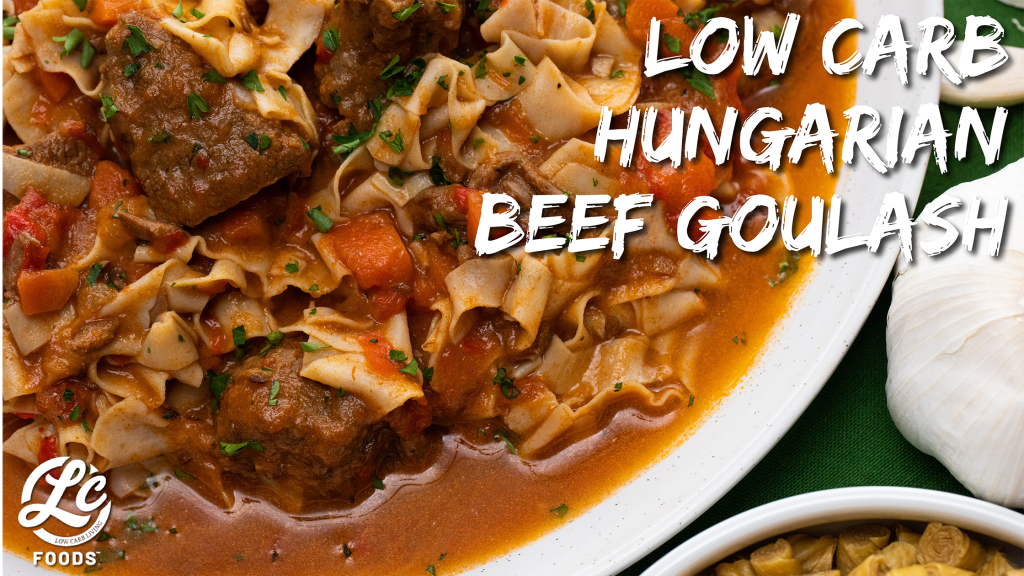 Prep Time: 15 minutes
Cook Time: 2 hours 15 minutes
Total Time: 2 hours 30 minutes
Servings: 12
Ingredients:
2 tbsp olive oil
3 pounds beef stew meat, cut into 1-2 inch chunks
3 tbsp hungarian paprika
2 tsp cayenne
Salt and pepper, to taste
3 yellow onions, chopped
2 medium carrots, chopped
2 red bell peppers, chopped
6 garlic cloves, chopped
2 cups beef broth
12 oz tomato sauce
14 oz can diced tomatoes
2 tsp caraway seeds
2 tsp LC Thick'n Saucy
4 oz full fat sour cream
12 oz LC Egg Noodle Pasta
2 tbsp chopped parsley, garnish
Method:
Dry beef chunks with a paper towel, and coat them in a mixture of the paprika, cayenne, salt, and pepper.
Heat olive oil in a large dutch oven over medium heat.
Add onions, carrots, and bell pepper, and saute until softened, about 5 minutes. Add garlic, salt and pepper, and saute until fragrant, about 30 seconds. Remove from the pan.
Add more oil if needed, and place beef in the pot. Cook until the beef browns, about 5 minutes, stirring frequently.
Reduce the heat to medium-low. Add cooked veggies,stock, tomato sauce, diced tomatoes, caraway seeds, and Thick'n Saucy to the pot, and stir. Cover with a lid and let simmer until the meat is very tender, about 2 hours, stirring occasionally.
Mix in the sour cream, and turn off the heat.
Towards the end of the goulash's simmering time, boil water for the noodles. Cook them at a low boil for 3-4 minutes, or al dente. Drain, and set into bowls for serving.
Serve the goulash over the noodles, and garnish with parsley. Enjoy!