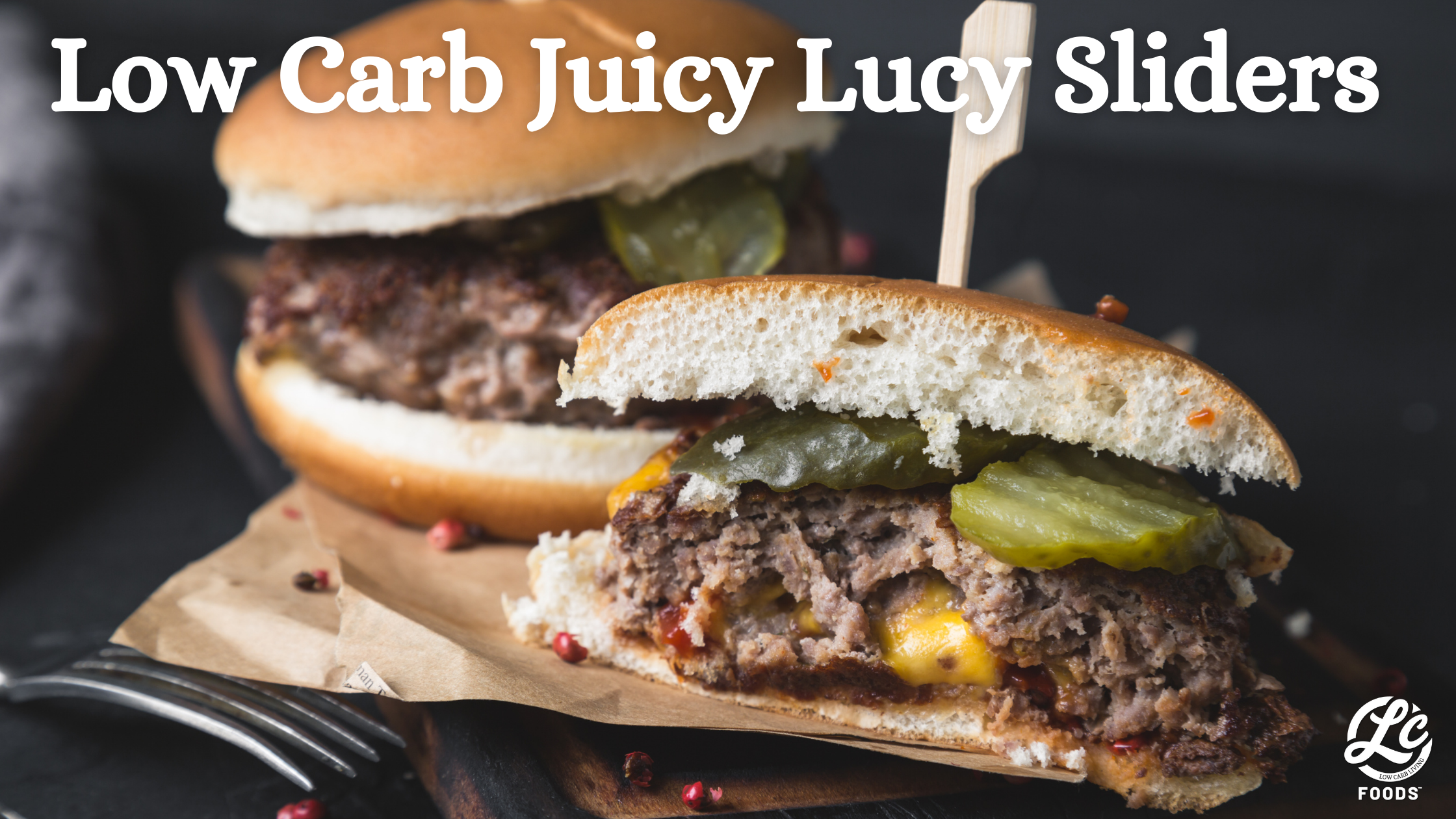 The Juicy Lucy burger has the cheese melted inside! These are great on the grill, but they can also be cooked on the stovetop, preferably using a cast iron skillet. Recipe makes 6 Low Carb Juicy Lucy Sliders, but it can easily be doubled for a crowd.
Ingredients:
1 1/2 pounds fresh ground beef
1/2 tablespoon Worcestershire sauce
2 teaspoons garlic powder
Salt and pepper
12 ounces shredded cheddar cheese
1 package LC Soft Baked Dinner Rolls, sliced and buttered
Vegetable oil (for grill grates)
Toppings of your choice, such as sugar free ketchup, mustard, mayonnaise, bacon, pickles, tomato slices, onion, lettuce
Method:
In a large bowl combine ground beef, Worcestershire sauce, garlic powder, salt and pepper and mix until the seasoning is evenly distributed.
Roll the ground beef into 12 equally sized balls. Place on wax paper or plastic wrap and flatten into patties that are about ¼ inch thick.
Sprinkle equal amounts (about 2 oz.) of the shredded cheese on each of 6 of the patties, avoiding the outermost edge.
Top each burger with a second patty and press down on the edges to seal the two patties completely together.
Rub vegetable oil on grill and heat grill to high.
Sear burgers over direct heat, 1-2 minutes per side. After flipping burgers, poke a small hole in top of each one to allow steam to escape.
Lower the heat on the grill and continue cooking until cooked through, about 5-6 minutes, or until cooked to your preference.
Remove from grill and allow burgers to rest for at least 5 minutes.
While the burgers are resting, toast the sliced and buttered LC Dinner Rolls on the grill.
Place burgers on toasted rolls, add toppings, serve, and dig in!
All LC Foods products have full nutritional detail on their labels and website. Total carb counts for a full recipe will vary and depend on the other ingredients used. Please refer to free apps, such as My Fitness Pal, My Net Diary or Carb Manager, to calculate nutritional information.