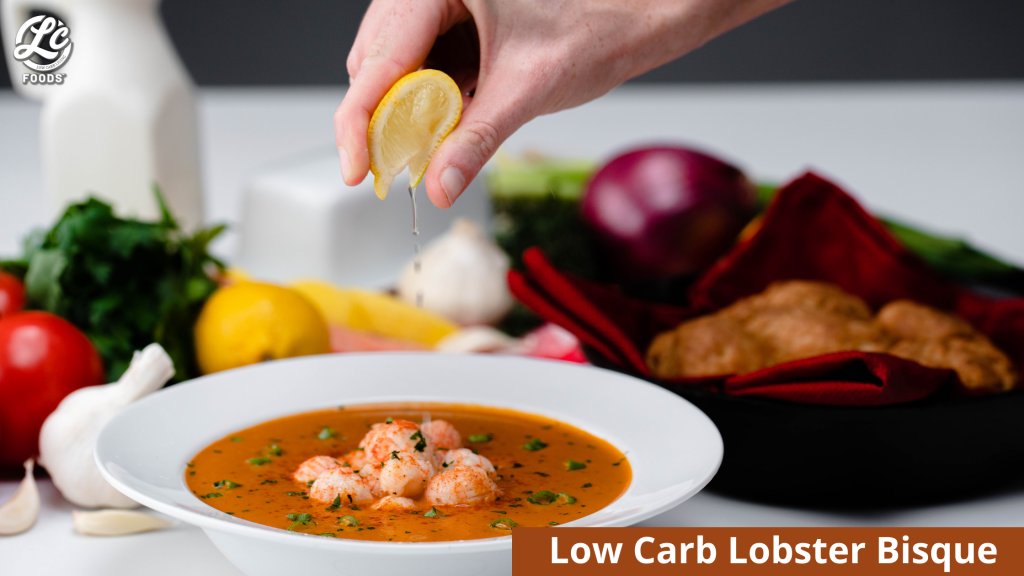 Prep Time: 20 minutes
Cook Time: 1 hour 20 minutes
Total Time: 1 hour 40 minutes
Servings: 4-6

Ingredients:

2 tablespoons butter
4 cloves garlic, finely chopped
1 red onion, finely chopped
3 carrots, finely chopped
4 stalks celery, finely chopped
1/2 cup tomato paste
1 quart seafood broth
2 cups white wine
1 oz brandy
1 cup heavy cream
3 bay leaves
1 tbsp salt
1 tsp peppercorns
1 tsp paprika
1 tsp thyme
3 tsp LC Thick 'n Saucy
1 tablespoon butter
24 oz pre cooked lobster chunks (can be raw)
Fresh lemon juice, for garnish
Green onions, sliced, for garnish
Parsley, for garnish
Paprika, for garnish
LC Fresh Baked Angel Rolls, for serving
Directions:

Over medium high heat, saute onion in butter in a soup pot until fragrant, 2-3 minutes. Add garlic and cook. Saute until the pan starts looking a little blackened and crusty at the bottom.
Deglaze the pot using the white wine, then add the celery and carrot.
Pour in your broth, brandy and tomato paste, and stir to incorporate.
Add in your spices, cover, and let the soup simmer for an hour.
Once the soup has cooked, remove and discard the bay leaves.
Add your cream, and allow it to come to a simmer again.
Add in the Thick'n Saucy while stirring the soup. Continue to simmer for 10 minutes to thicken up.
Pour the soup into a large blender and blend until creamy. Alternatively, an immersion blender can also be used. Transfer back into the soup pot and keep warm over low heat.
Preheat the oven to 300 F, and bake the Angel Rolls for about 5 minutes or until heated through.
While the rolls are heating, saute lobster chunks in butter until just heated or cooked through.
Pour your bisque into a bowl, and add your lobster chunks.
Serve with LC Angel Rolls, and garnish with lemon juice, green onion, parsley, and paprika. Enjoy!