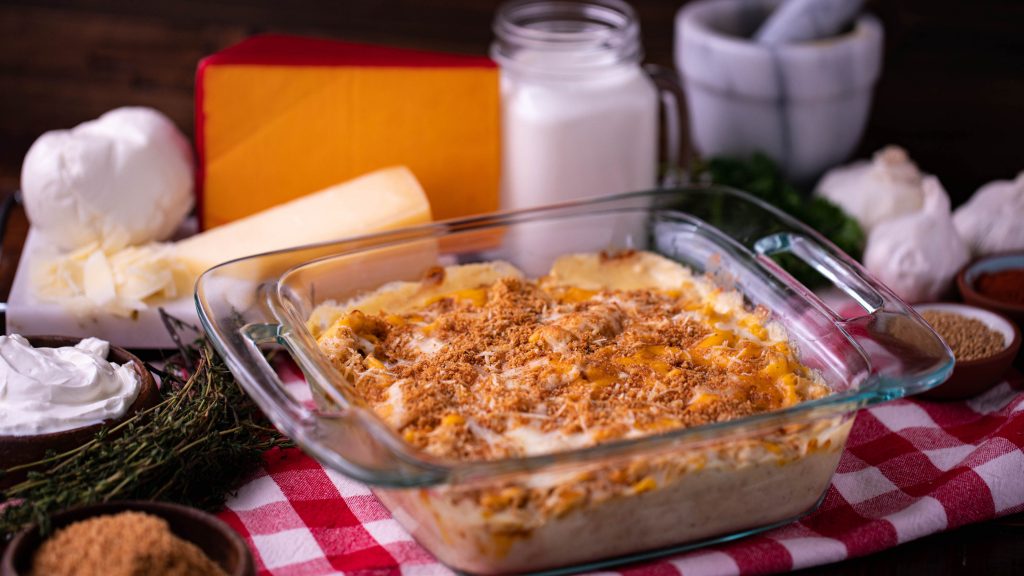 Ingredients:
2 Tablespoons of butter
1 clove of garlic, minced
¼ tsp of ground thyme
¼ tsp of paprika
½ tsp of dry mustard
½ cup of heavy cream
1 cup of water or vegetable broth
1 Tablespoon of LC Thick'n Saucy
¼ cup of sour cream
½ teaspoon of salt
½ teaspoon of pepper
½ cup of parmesan, shredded
1 cup of mozzarella, shredded
1 cup of cheddar, shredded
1 cup of Low Carb Fettuccine Pasta
½ cup of Low Carb Seasoned Bread Crumbs
Method:
Melt the butter in a medium-sized saucepan on the stove at medium heat. Once the butter is melted, add garlic and cook until fragrant. Then add paprika, thyme, and mustard. Mix to combine in the butter.
Pour in the broth then slowly pour in the heavy cream while whisking to roughly combine. Add the thick n saucy and sour cream then constantly whisk until roux is thick and smooth.
Add in half of the all shredded cheeses and mix until the cheese melts into the sauce and becomes thick, smooth, and stretchy. Add in the salt and pepper then mix to combine. Turn off the heat and cover the saucepan with a lid.
Bring a pot halfway filled with water to a boil. Put in the fettuccine and cook for 3-5 minutes, stirring occasionally. Strain noodles immediately and let dry for 5 minutes.
Preheat the oven to 375 degrees.
Once most of the water has evaporated from the noodles, add them to an oven safe casserole dish. Pour the cheese sauce over the noodles then mix to coat noodles.
Top the mac n cheese with the remaining shredded cheese. Spread the bread crumbs over the cheese.
Place the casserole dish into the oven and bake for 15 minutes until bread crumbs become crispy and golden brown.
Once the time is complete, remove the dish from the oven and let cool for 5 minutes before serving.
Serve and enjoy!