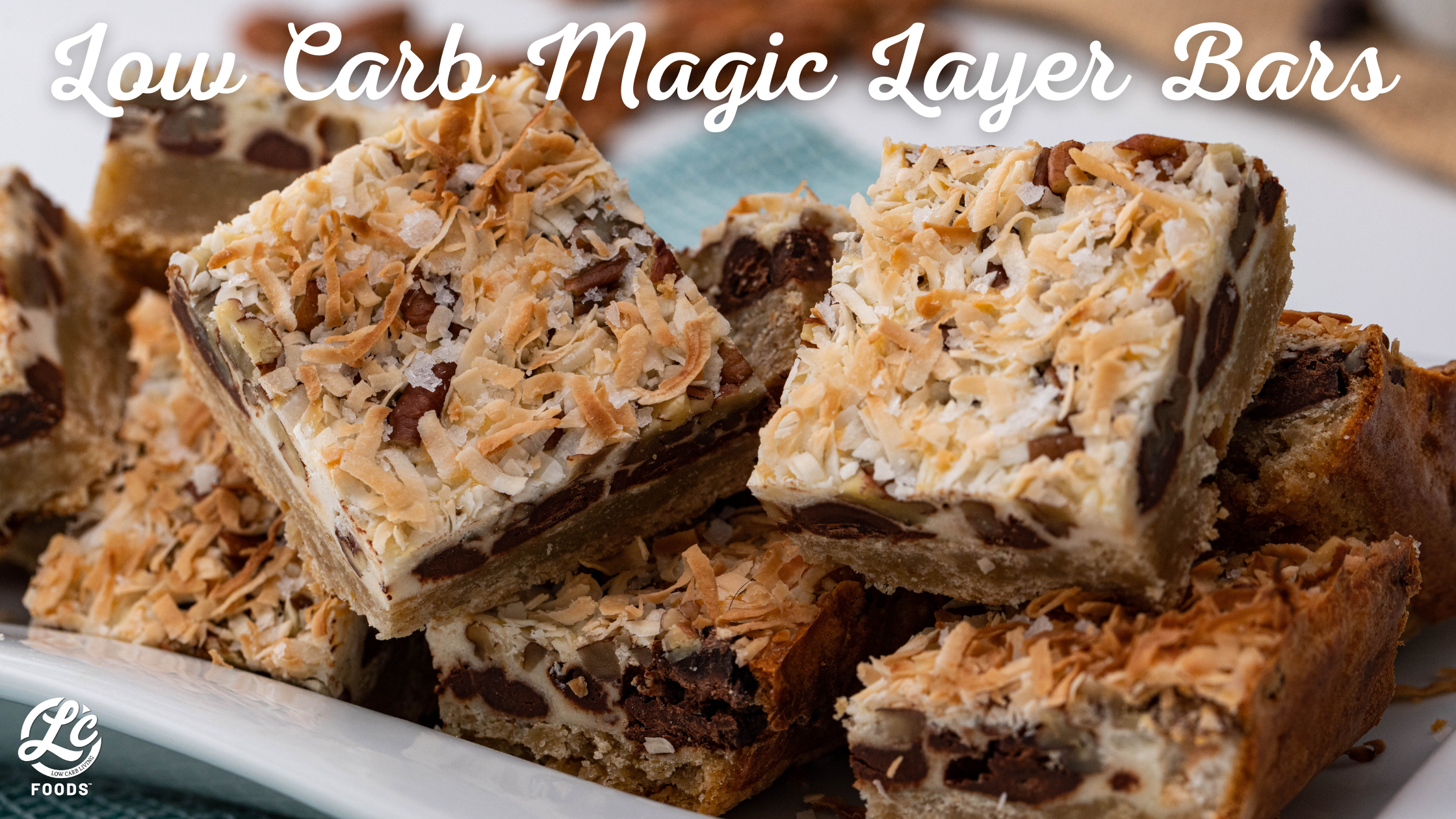 Ingredients:
1 package LC Pie Crust Mix
½ cup unsalted butter, frozen
6 tbsp shortening, frozen
3 tbsp + 1 tsp heavy cream
1 tbsp white vinegar
3 tbsp + 1 tsp water
½ cup water
½ cup heavy cream
1 ½ tsp vanilla
1 cup chopped pecans
1 cup unsweetened coconut-shredded
1 teaspoon flaky sea salt
Method:
Start by making the pie crust layer. Follow Pie Mix package instructions using LC Pie Crust Mix, LC White Sugar Sweetener, butter, shortening, heavy cream, white vinegar, and water, but instead of separating into two dough balls, leave together as one dough ball.
Grease and line a 9 x 13" pan with parchment paper, letting the parchment spill over the sides, so the bars are easy to pull out. Press the pie dough ball into the pan so that it completely covers the bottom without coming up the sides. Use the bottom of a cup to make it smooth.
Cover and refrigerate for an hour. While chilling, preheat the oven to 425F. Next, prepare the condensed milk by using a hand mixer to combine LC Sweetened Condensed Milk, water, heavy cream, and vanilla. Set aside.
Score and bake pie crust in the oven for 10-12 minutes. Pull out and allow to cool slightly before adding more layers. Turn the oven down to 350F.
Pour the sweetened condensed milk over the pie crust, and spread to the edges with a spatula.
Sprinkle the Sugar Free Large Dark Chocolate Chips, chopped pecans, and unsweetened coconut shreds over the top of the condensed milk. Use your palm to gently press the toppings into the milk.
Bake at 350F for 30-35 minutes, until the edges are golden brown and starting to pull away from the sides of the pan. Remove the pan from the oven and sprinkle sea salt over the top.
Leaving the bars in the pan, cool completely at room temp for a couple of hours, then pop into the fridge for a couple more hours or overnight to firm up.
Cut into 24 pieces and enjoy!
All LC Foods products have full nutritional detail on their labels and website. Total carb counts for a full recipe will vary and depend on the other ingredients used. Please refer to free apps, such as My Fitness Pal, My Net Diary or Carb Manager, to calculate nutritional information.