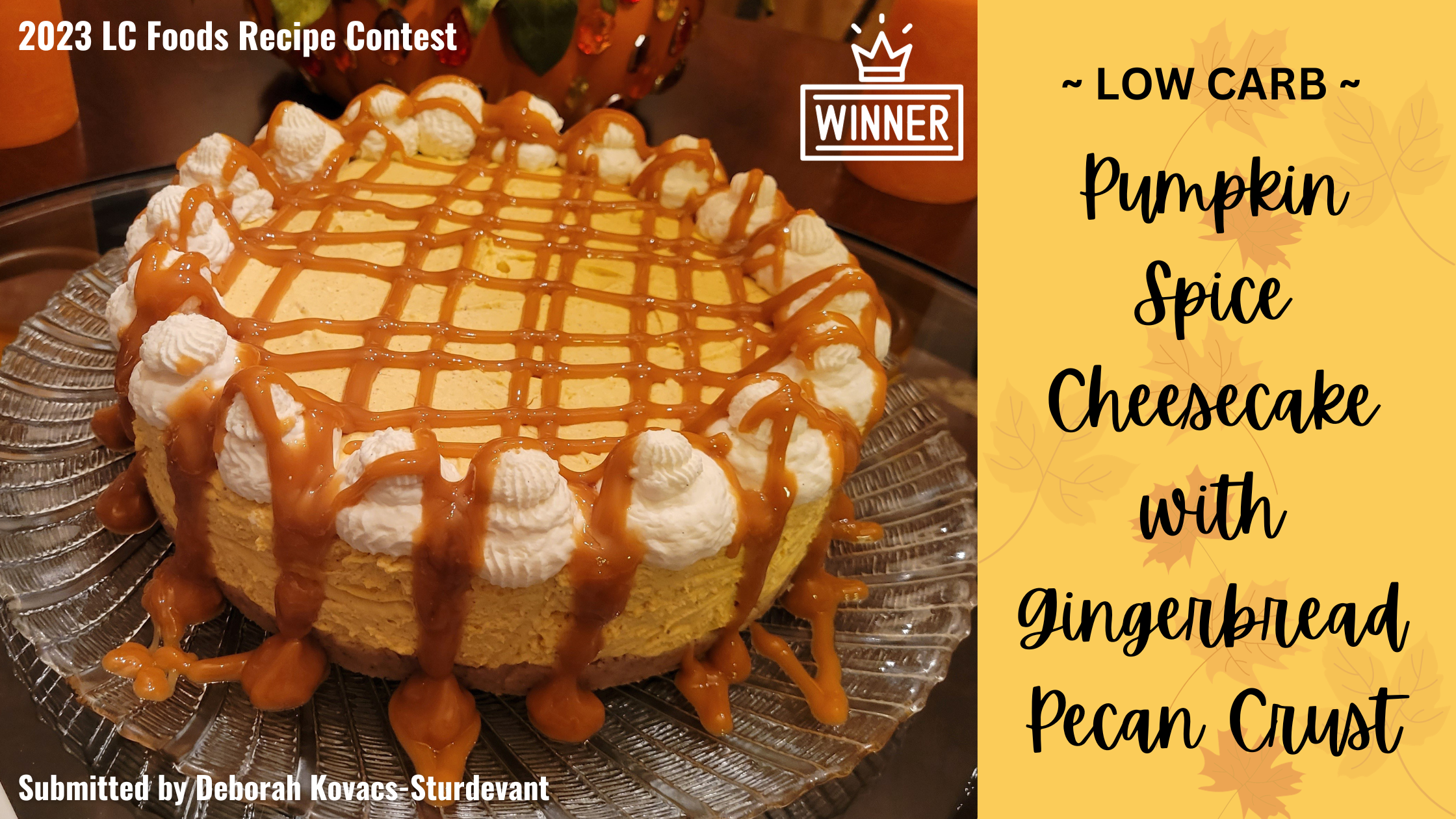 Ingredients
Crust:
6 prepared gingerbread cookies, made using 1/2 packet LC Foods Gingerbread Cookie Mix (follow package directions)
3/4 cup roasted salted pecan halves
1 tablespoon keto honey substitute
Cheesecake Fillling:
24 oz. cream cheese, at room temperature
1 – 1/2 cups pumpkin puree
1 cup LC Foods Low Carb White Sugar Sweetener – Erythritol (or more to taste)
2 teaspoons pumpkin pie spice
1 teaspoon cinnamon
1/4 teaspoon salt
1 teaspoon maple extract
2 teaspoons vanilla extract
1 packet powdered gelatin, bloomed in 3 tablespoons water
1 cup heavy whipping cream
Garnish:
Whipped cream (store bought or homemade)
Sugar-free caramel sauce
Instructions
Prepare a 9″ springform pan by spraying with non-stick cooking spray. Optional: insert an acetate collar around the inside of the pan.
For the crust, combine all crust ingredients in a food processor and process until fine crumbs and well blended. Press the crust mixture evenly into the bottom of the prepared pan.
For the filling, using an electric mixer, beat the cream cheese, pumpkin puree, erythritol, spices, salt, vanilla and maple extracts until well blended. (Note: adjust sweetener to taste. You may add more sweetener at this point if you like a sweeter cheesecake.)
Bloom the gelatin in cold water until softened, then microwave for 30 seconds. Beat the soft gelatin into the cream cheese mixture.
In a separate bowl, beat the heavy cream until soft peaks form. Fold the whipped cream into the cream cheese mixture.
Pour the filling over the prepared crust, smoothing the top. Refrigerate the cheesecake for 6 hours before removing from the pan.
Before serving, pipe or dollop whipped cream on the top, then drizzle with the caramel sauce.
*This recipe was the winner of our 2023 recipe contest!
All LC Foods products have full nutritional detail on their labels and our website. Total carb counts for a full recipe will vary and depend on the other ingredients used. Please refer to free apps, such as My Fitness Pal, My Net Diary or Carb Manager, to calculate nutritional information.