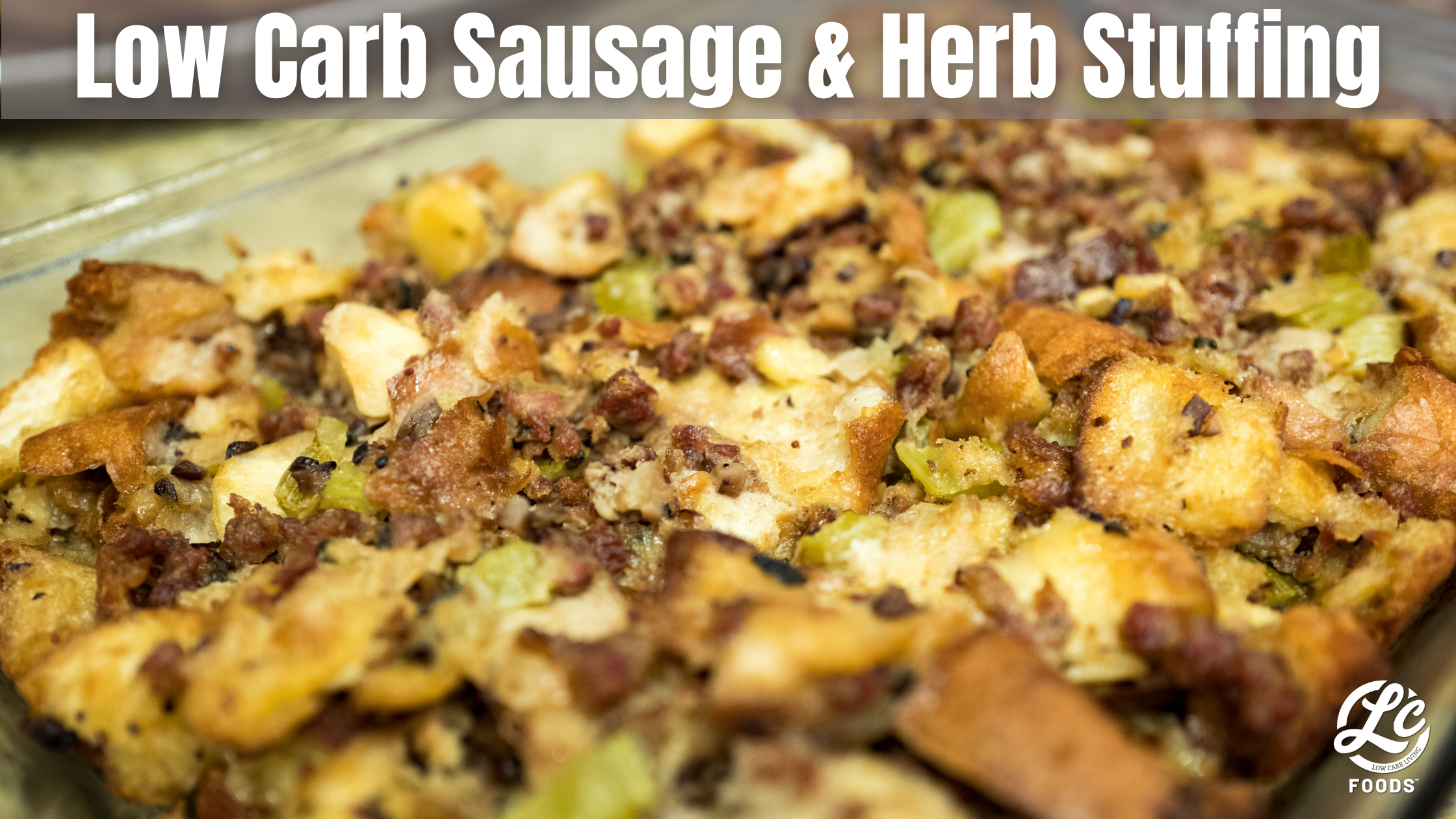 Ingredients:
2 packages LC Seasoned Bread Stuffing
1 tablespoon oil
1 pound sage pork sausage
1/3 cup unsalted butter
1 large onion, finely chopped
1 cup chopped celery
5 large cloves garlic, minced
1/2 cup chopped flat-leaf parsley
1 1/2 tablespoons fresh chopped sage
1 tablespoon fresh chopped rosemary
3/4 teaspoon sea salt or more to taste
1/2 teaspoon freshly ground black pepper
1/2 cup dry white wine or 1/4 cup of chicken stock
2 1/2 cups low sodium chicken stock
1 egg, lightly whisked
Method:
Preheat the oven to 350°F.
Spray a 9 x 12 baking dish with non-stick spray and set aside.
Pour the two packages of LC Seasoned Bread Stuffing into to a very large bowl.
In a large frying pan, heat the oil over medium heat. Cook the sausage over medium heat for about 10 minutes, breaking it up as it cooks, until browned and cooked through.
Add the cooked sausage to the bowl with the LC Seasoned Bread Stuffing.
In the same pan, melt the butter and add the onions, celery, garlic, parsley, sage, rosemary, salt and pepper. Saute over medium heat for 10 minutes, until the vegetables are softened. Add the wine, and allow the wine to reduce to about half, 10 minutes.
Take the pan off the heat and mix in the stock to combine all of the flavors.
Pour the mixture into the bowl with the LC Seasoned Bread Stuffing and sausage. Add the beaten egg.
Mix until everything is well combined, and all of the liquid is absorbed. If it seems too dry, add more broth as needed.
Transfer the stuffing into the prepared baking dish. Bake for 30 minutes, until browned on top and hot in the middle. Serve warm.
All LC Foods products have full nutritional detail on their labels and website. Total carb counts for a full recipe will vary and depend on the other ingredients used. Please refer to free apps, such as My Fitness Pal, My Net Diary or Carb Manager, to calculate nutritional information.