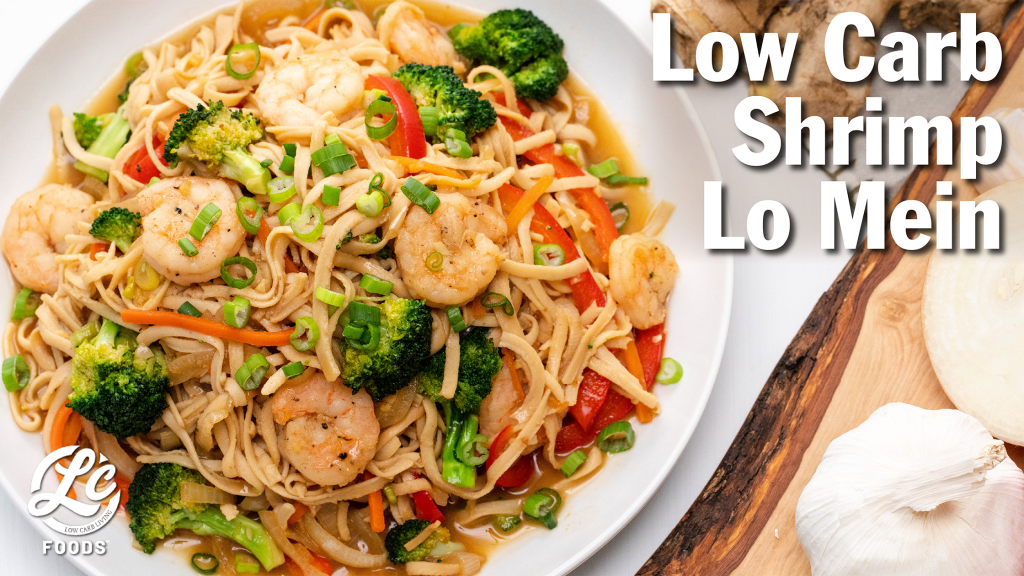 Prep Time: 15 minutes
Cook Time: 20 minutes
Total Time: 35 minutes
Servings: 4
Ingredients:
Lo Mein:
8 oz LC Thin Spaghetti Pasta
3 tbsp sesame oil, divided
1 lb shrimp, peeled
Salt & pepper, to taste
1 large red bell pepper, matchsticks
1 large carrot, matchsticks
2 cups broccoli, small florets
1 large onion, thinly sliced
3 garlic cloves, minced
Lo Mein Sauce:
2 green onion stalks, thinly sliced, whites and greens divided
1 tbsp minced garlic
1 tbsp minced ginger
¼ cup water
3 tbsp coconut aminos
1 tbsp rice vinegar
1 tsp fish sauce
1 tsp packed LC Brown Sugar Sweetener, erythritol
½ tsp LC Thick'n Saucy
Method:
Boil water, and cook the spaghetti pasta for 2-3 minutes or until just under al dente. Rinse with cold water and set aside.
Mix the whites of the green onions along with the rest of the sauce ingredients together, whisking well. Set aside. Reserve the greens of the onions for garnish.
Heat 1 tbsp sesame oil over medium high heat in a wok or large saute pan. Season the shrimp with salt and pepper and saute until just cooked through. Remove from heat and set aside.
Heat the remaining 2 tbsp sesame oil over medium high heat. Add in the onions, bell peppers, and carrots and stir fry for 2-3 minutes. Now add the garlic and broccoli florets and continue to stir fry for 2-3 minutes. Add the noodles and shrimp in, and pour the lo mein sauce over the top of everything. Toss together for 2-3 minutes. Make sure everything is coated in sauce and the shrimp and noodles are reheated.
Serve hot and garnish with green onions.