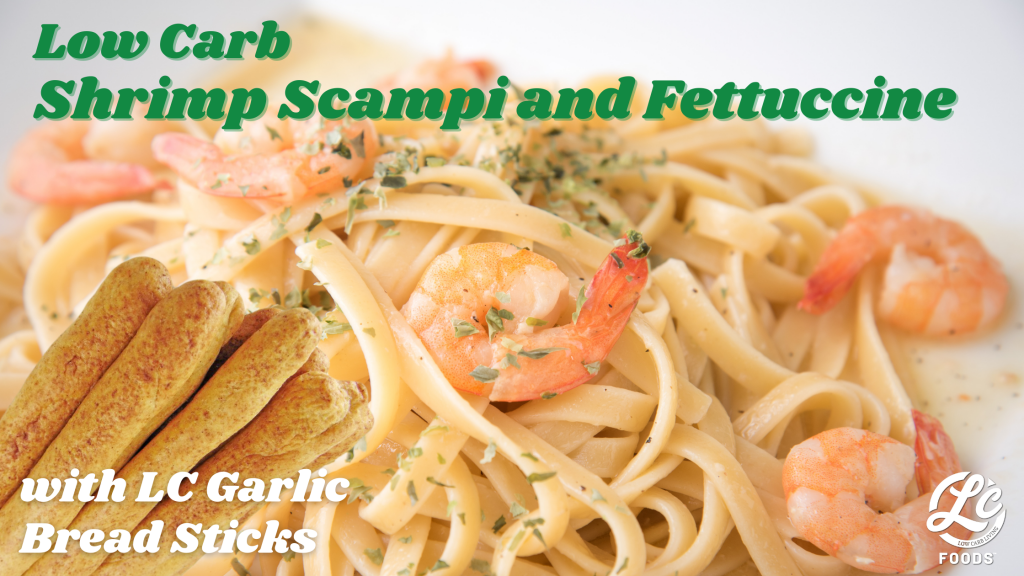 Ingredients:
Olive oil
1 tablespoon kosher salt plus 1 1/2 teaspoons
3/4 pound LC Fettuccine Pasta Noodles, uncooked
3 tablespoons unsalted butter
2 1/2 tablespoons olive oil
1 1/2 tablespoons minced garlic (4 cloves)
1 pound large shrimp (about 16 shrimp), peeled and deveined
1/4 teaspoon freshly ground black pepper
1/3 cup chopped fresh parsley leaves
1/2 lemon, zest grated
1/4 cup freshly squeezed lemon juice (2 lemons)
1/4 lemon, thinly sliced in half-rounds
1/8 teaspoon hot red pepper flakes
Method:
Bring a large pot of water to boil, add 1 tablespoon of salt and a drizzle of olive oil. When water is boiling, add the LC Fettuccine Pasta Noodles and cook 3 to 5 minutes.
While pasta is cooking, in a skillet melt the butter and olive oil over medium-low heat. Add the garlic and saute for about 1 minute then add the shrimp, 1 ½ teaspoons of salt, and the pepper. Cook, stirring often, until the shrimp have just turned pink, about 5 minutes. Be careful to not overcook the shrimp. Remove the skillet from the heat, add the parsley, lemon zest, lemon juice, lemon slices, and red pepper flakes and toss to combine.
When the pasta is cooked, drain in a colander and return it to the pot. Immediately add the shrimp and the sauce and gently toss together. Garnish with chopped parsley and serve with LC Garlic Bread Sticks.