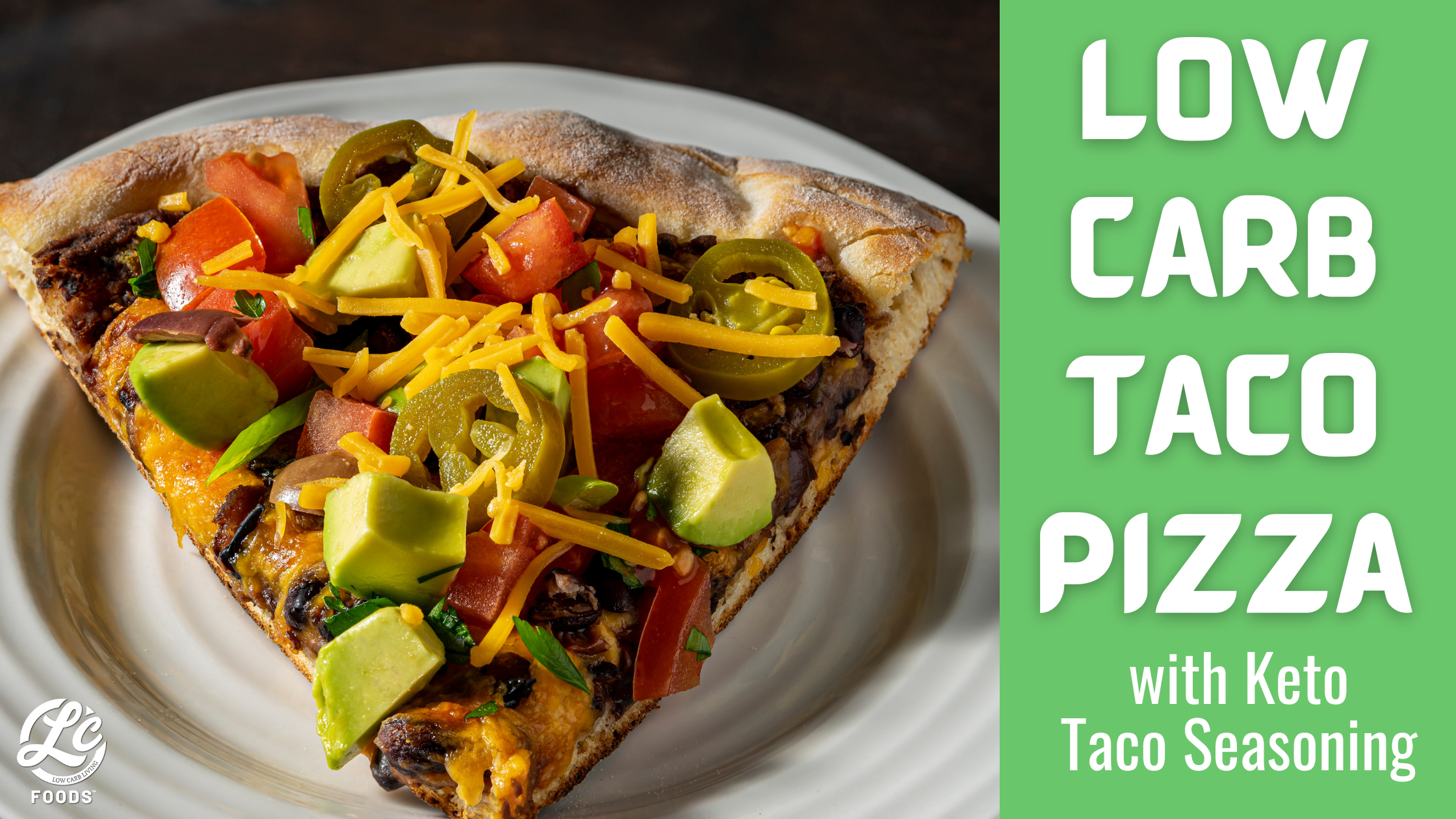 This recipe can easily be doubled for a crowd, using both LC Thick Crust Pizza Shells. Try slicing it in smaller squares for a delicious appetizer!
Ingredients:
1 pound ground beef
4 Tablespoons Keto Taco Seasoning (see below)
½ -3/4 cup mild or spicy salsa (check label for added sugar)
2 cups shredded cheddar cheese, divided
Your favorite low carb toppings: Olives, Avocado, Sour Cream, Jalapenos, Green Onions, Lettuce
Keto Taco Seasoning:
2 Tablespoons Chili Powder
1 Tablespoon Cumin
1 teaspoon Garlic Powder
1 teaspoon Onion Powder
1 teaspoon Dried Oregano
1 teaspoon Paprika
1/2 teaspoon Crushed Red Pepper Flakes Add more/less depending on how spicy you like your seasoning!
2 teaspoon Kosher Salt
2 teaspoon Black Pepper
Method:
Preheat oven to 375 degrees F.
Mix all of the ingredients for the Keto Taco Seasoning in a small bowl.
In a medium skillet, fry ground beef until cooked through and drain excess liquid or fat.
Stir in the taco seasoning, remove from heat and set aside.
Place the LC Thick Crust Pizza Shell on a baking sheet or cutting board.
Spread the salsa over the top and layer half of the shredded cheddar cheese over the salsa.
Top the cheese layer with the ground beef mixture and top with the rest of the shredded cheddar cheese.
Place the pizza directly on the rack in the oven by sliding it off of the cookie sheet or cutting board and bake for about 13 minutes.
Remove the pizza from the oven, top with the low carb toppings of your choice, and additional Keto Taco Seasoning, if desired, slice and enjoy!
All LC Foods products have full nutritional detail on their labels and website. Total carb counts for a full recipe will vary and depend on the other ingredients used. Please refer to free apps, such as My Fitness Pal, My Net Diary or Carb Manager, to calculate nutritional information.