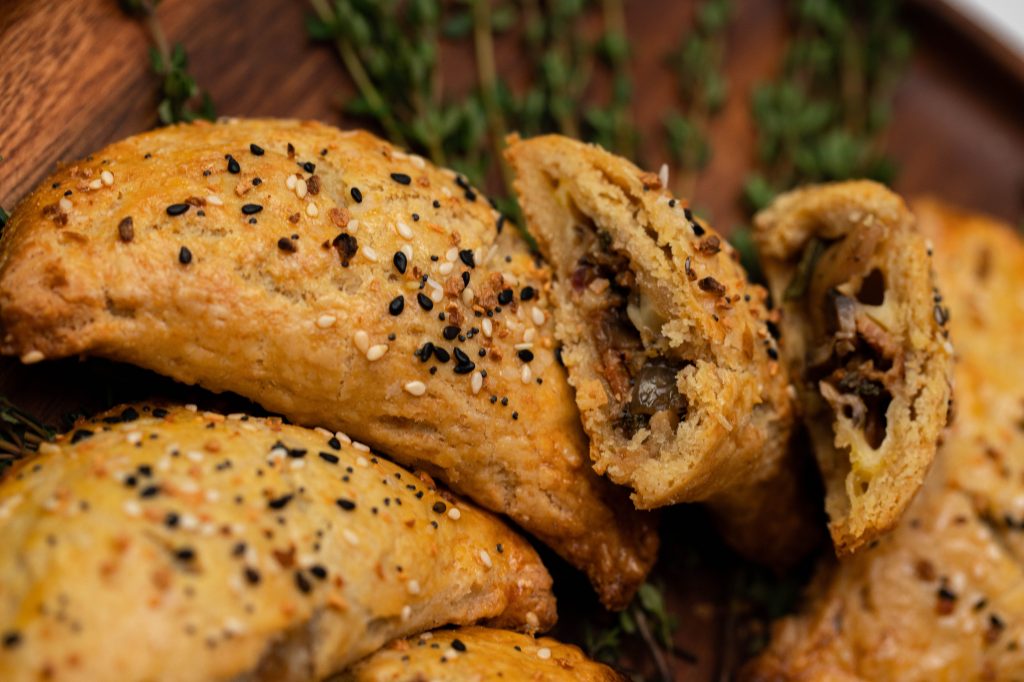 Prep Time: 1 hour 20 min
Cook Time: 40 min
Total Time: 2 hours
Servings: 12

LC Pie Crust
1 package LC Pie Crust Mix
8 oz (one stick) of butter frozen
6 Tablespoons shortening frozen
3 Tablespoons + 1 teaspoon heavy cream
1 Tablespoon white vinegar
3 Tablespoons + 1 teaspoon water
Filling
2 Tablespoon unsalted butter divided
3/4 cup yellow onion diced
3 cloves of garlic minced
2 cups whitemushrooms sliced
1/2 teaspoon ground pepper
1/2 teaspoon sea salt
2 Tablespoons fresh thyme chopped
1 Tablespoon balsamic vinegar
2 cups fresh baby spinach chopped
1/2 cup cooked bacon diced
1 cups gouda shredded
Egg Wash
2 Egg Yolk
2 teaspoon Water
Everything bagel seasoning for garnishing
Instructions
Make your LC Pie Crust according to bag instructions and roll out on a floured surface to 1/8″ thickness. Cover in plastic wrap and refrigerate for 1 hour.
Preheat the oven to 425 F.
To make the filling, add 1 tablespoon butter and onions to a skillet and saute over medium-low heat for about 15 minutes or until mostly caramelized. Next add 1 tablespoon butter, mushrooms, garlic, salt, pepper, thyme, and balsamic vinegar. Cook for 3-4 minutes until softened.
Stir in spinach and bacon while warm and remove from heat. Let cool and drain any excess juices.
Whisk together the egg and water to make the egg wash.
Pull out pie dough and cut into 5 inch circles (use a bowl or cookie cutter for shape).
Spoon about 2 tablespoons of filling onto one half of each circle and sprinkle with cheese. Leave 1/4 inch space of crust around the edge of the circle. Paint a little egg wash on the edge of dough to help when closing. Fold over the other half and press ends together with fingers.
Lay each pocket onto a lined baking sheet. Using a small pastry brush, apply egg wash onto top and sides of pie. Sprinkle pies with everything bagel seasoning. Slice two small lines in the center with a knife.
Bake at 425 F (218 C) on a parchment paper lined baking tray for 15-20 minutes or until golden brown. Let cool for 5-10 minutes and enjoy!