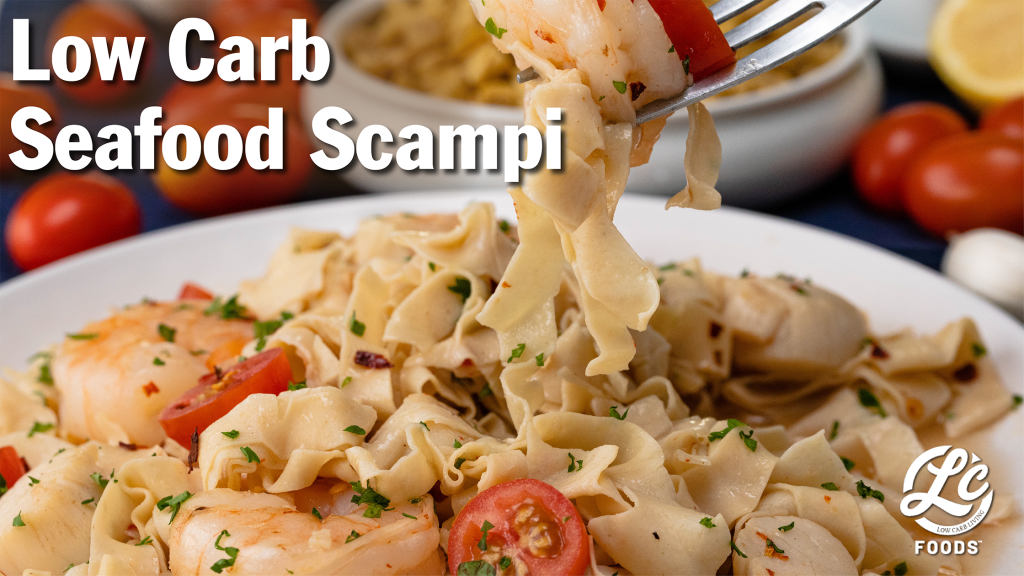 Prep Time: 10 minutes
Cook Time: 15 minutes
Total Time: 25 minutes
Servings: 3
Ingredients:
1 lb seafood blend, shrimp and scallops
8 oz LC Low Carb Egg Noodles Pasta
1 tbsp olive oil
3 tbsp unsalted butter
4 cloves garlic, minced
Salt and black pepper, to taste
½ cup clam juice
½ cup seafood stock
1 tsp crushed red peppers
2 tbsp lemon juice or to taste
6 cherry tomatoes, sliced into halves
1 tbsp chopped parsley
Method:
If fresh, rinse the seafood blend with cold water, drain and set aside. Pat dry with paper towels. If frozen, rinse with running, cold water to thaw and repeat with the previous steps.
Bring a pot of water to boil, cook the egg noodles until al dente, about 3-4 minutes at a low boil. Drain and set aside.
Heat up a skillet on medium heat. Add the olive oil and butter. Saute the garlic until light brown. Add the seafood blend, and season with salt and pepper. Stir, and cook until about half done. Add the clam juice, seafood stock, crushed red pepper, and lemon juice. Adjust the flavor by adding more salt and lemon juice.
Transfer the egg noodles into the skillet, stir to combine well with the seafood. Add the cherry tomatoes and chopped parsley. Mix well. Turn off the heat and serve immediately!