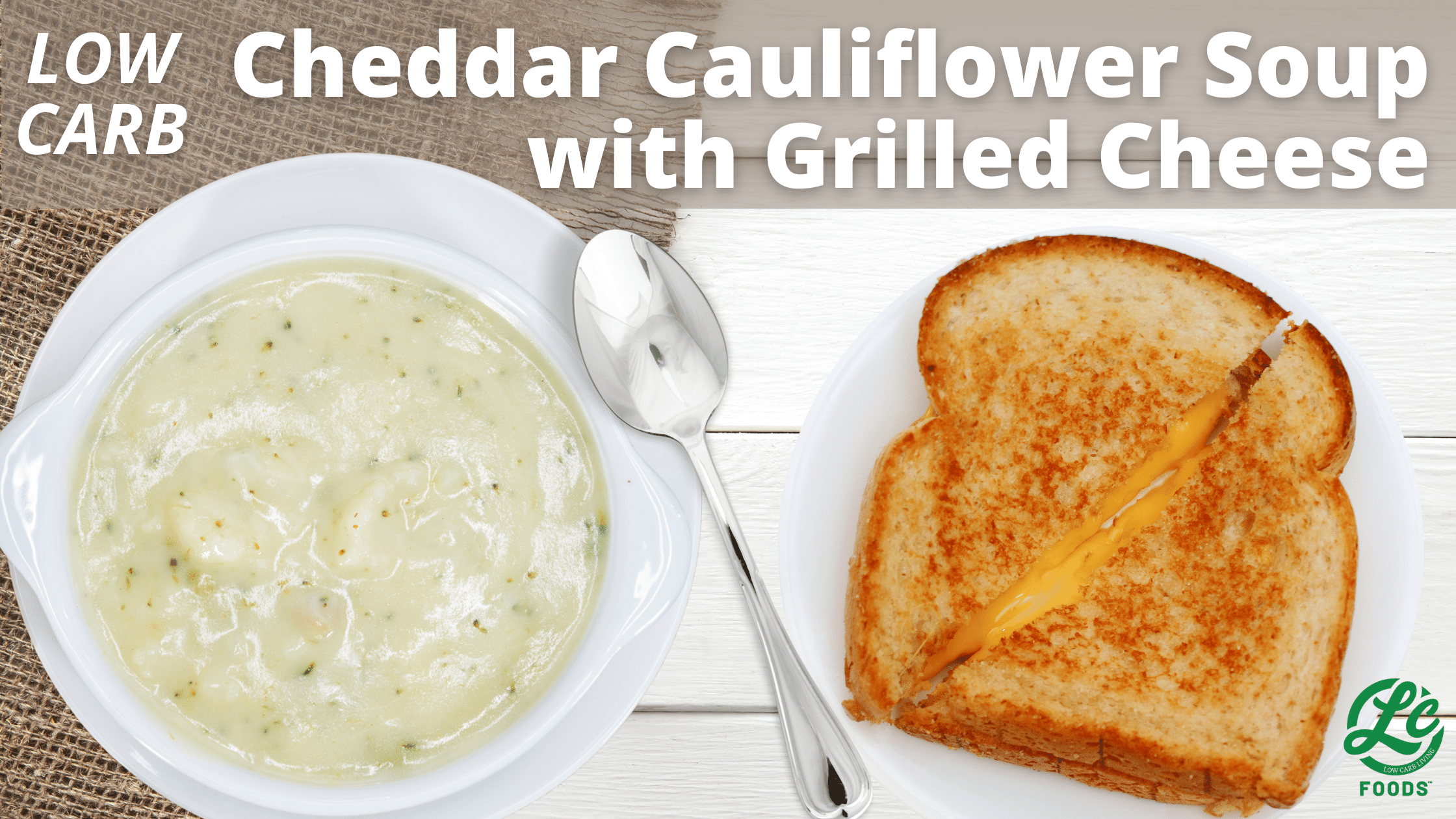 Ingredients:
2 Tablespoons extra-virgin olive oil
2 large leeks, white and green parts only, thinly sliced and rinsed
4 cups chopped cauliflower florets (from 1 medium head)
2–1/2 cups heavy cream, divided
2 cups water
1 bay leaf
1 teaspoon salt
1/2 teaspoon white or black pepper
3 Tablespoons LC-Thick'n Saucy
1–1/2 cups shredded extra-sharp cheddar cheese
1 Tablespoon lemon juice
Sharp Cheddar Cheese Slices
Softened Butter
Method:
Heat oil in a large saucepan over medium heat.
Add leeks and cook, stirring until very soft, about 5 minutes.
Add cauliflower, 2 cups cream, water, bay leaf, salt and pepper.
Bring to a boil over medium-high heat, stirring often.
Reduce heat to a simmer, cover and cook, stirring occasionally, until the cauliflower is soft, about 8 minutes.
Meanwhile, whisk the remaining 1/2 cup cream and Thick'n Saucy together in a small bowl.
When cauliflower is soft, remove the bay leaf and stir in the cream mixture.
Cook over medium-high heat, stirring until the soup has thickened, about 2 minutes more.
Remove from heat.
Stir in cheese and lemon juice.
Meanwhile, heat a skillet to medium heat on the stove.
Butter one side each of the desired number of slices of LC Hearty White Bread.
Place one slice of the bread in the skillet, butter side down, top with sliced cheese, and then the other slice of bread, butter side up.
Cook until it is browned to your liking on one side and the cheese begins to melt.
Using a spatula, flip the sandwich and brown the other side. Repeat for the number of grilled cheese sandwiches you are serving.
Serve warm with the soup and enjoy!
All LC Foods products have full nutritional detail on their labels and website. Total carb counts for a full recipe will vary and depend on the other ingredients used. Please refer to free apps, such as My Fitness Pal, My Net Diary or Carb Manager, to calculate nutritional information.