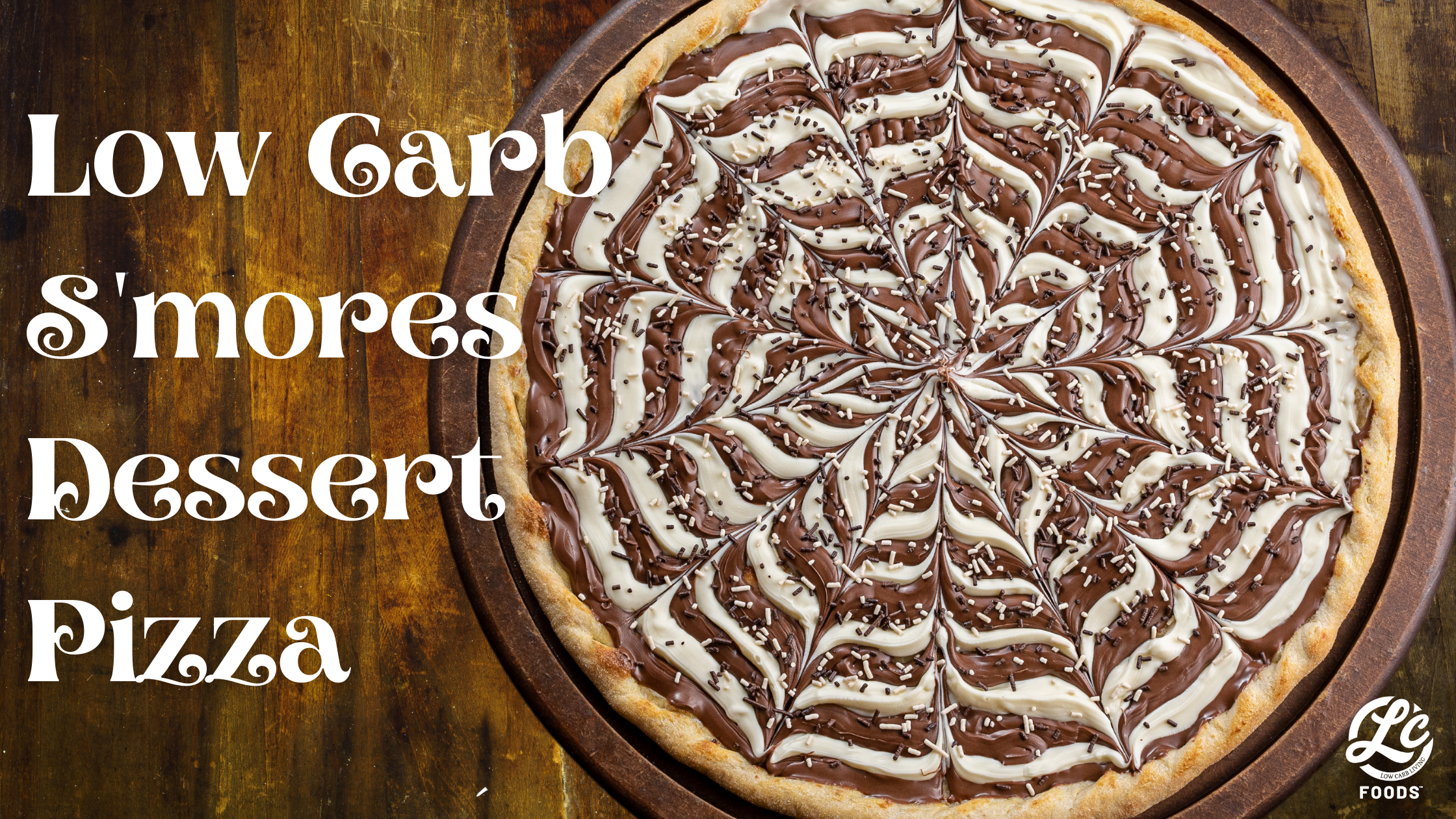 Ingredients:
Method:
Preheat the oven to 375 degrees.
PREPARE THE MARSHMALLOW CREAM:
Carefully separate the eggs and set aside.
Place the LC Marshmallow Cream Mix in a bowl. Add the water and vanilla extract and stir by hand.
Using an electric mixer set on medium, add the egg whites slowly and continue to blend on medium speed for 2-3 minutes until the marshmallow begins to thicken slightly. Set aside.
Place the

LC Thin Crust Pizza Shell

in a 12″ pizza pan* (see note). Brush the shell with the melted butter, all the way to the edges.

Place the crust in the oven and bake for about 6 minutes.
Take the crust out of the oven and sprinkle the LC Brown Sugar Sweetener-Inulin evenly over the top of the warm crust, including the edges. Put the crust back in the oven for about 2 minutes.
In a microwave safe dish, briefly warm the LC Dark Chocolate Almond Spread, about 10 seconds.
Remove the crust from the oven and spread the LC Dark Chocolate Almond Spread evenly over the top, leaving about ½ inch border.
Carefully drizzle the prepared LC Marshmallow Mix over the top of the chocolate spread. If desired, pour it in a spiral pattern around the crust and lightly run a butter knife through the toppings for a decorative effect.
Put the assembled pizza back in the oven for about 2 minutes.
Remove from oven and sprinkle with sugar free chocolate sprinkles, if desired.
Cool slightly, cut into slices and serve while still warm.
Note: *If you don't have a 12″ pizza pan, you can place the pizza shell on a cutting board or cookie sheet for support, and transfer in and out of the oven by sliding it directly on the oven rack, and sliding it out back onto the cutting board or cookie sheet.
All LC Foods products have full nutritional detail on their labels and website. Total carb counts for a full recipe will vary and depend on the other ingredients used. Please refer to free apps, such as My Fitness Pal, My Net Diary or Carb Manager, to calculate nutritional information.