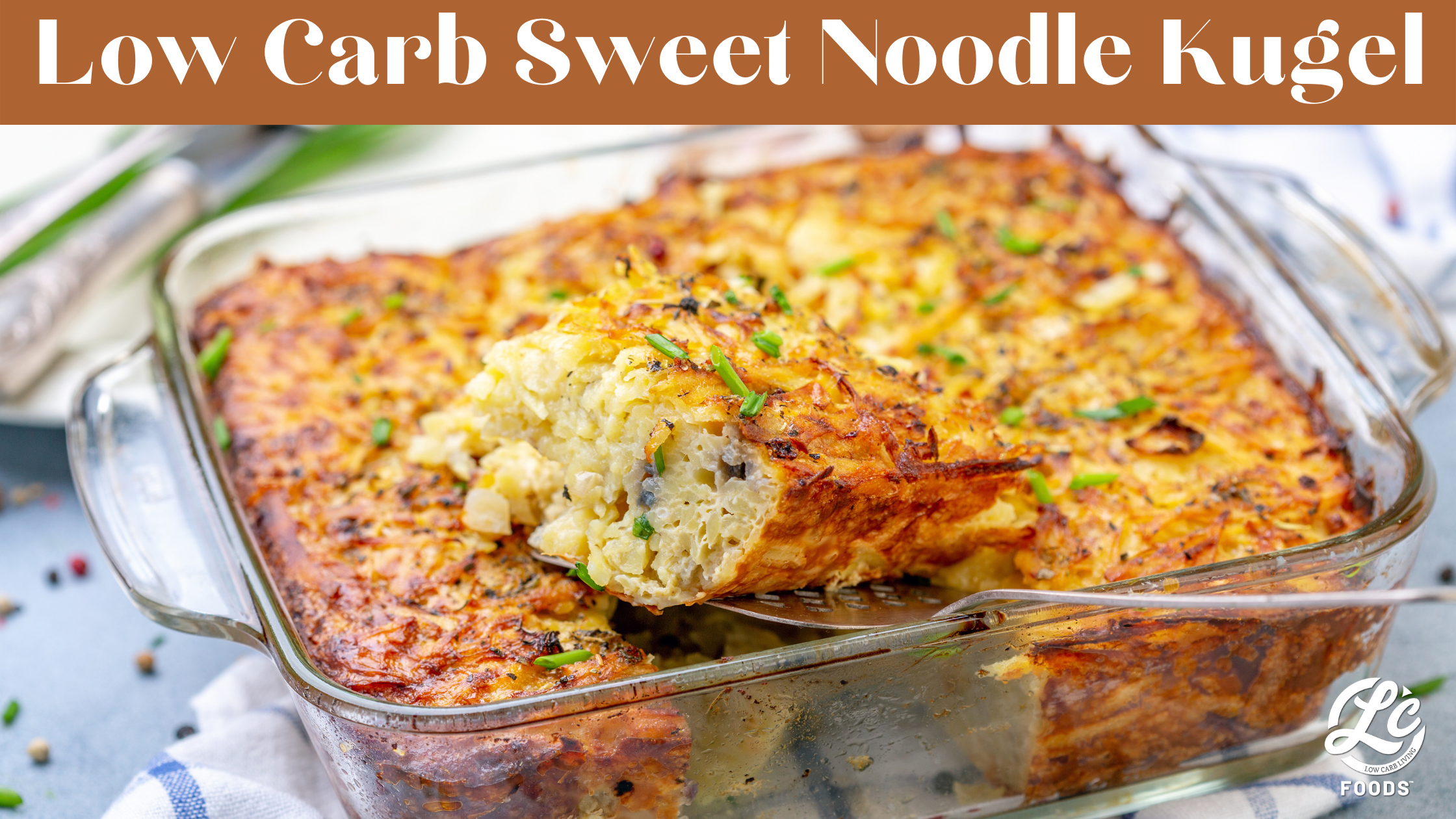 Ingredients:
1 teaspoon kosher salt
1 package LC Egg Noodles Pasta
3 large eggs
1 cup sour cream
1/2 cup cottage cheese
4 ounces cream cheese, softened
2 Tablespoons unsalted butter, melted
1 teaspoon vanilla
1/8 teaspoon salt
1/2 cup + 1/2 tablespoon LC White Sugar Sweetener-Inulin, divided
1/2 teaspoon cinnamon, divided
Method:
Preheat oven to 350 degrees F. with an oven rack in the middle position. Butter an 8 x 8 baking dish.
Bring a large pot of water and 1 teaspoon kosher salt to a boil. Add the LC Egg Pasta Noodles to the pot, bring back to a boil, and let them cook for 3-5 minutes. Drain thoroughly and return the cooked noodles to the pot.
In a blender or the bowl of a food processor, blend together the eggs, sour cream, cottage cheese, cream cheese, melted butter, vanilla, salt, ½ cup of LC White Sugar Sweetener-Inulin, and 1/4 teaspoon cinnamon.
Pour the egg mixture over the cooked noodles in the pot and stir until well combined.
Pour the noodle mixture into the prepared baking dish, spreading evenly.
Mix the remaining ½ tablespoon of LC White Sugar Sweetener and 1/4 teaspoon cinnamon; sprinkle over the top of the kugel.
Bake the kugel for about 45 minutes until the center of the kugel is set and the tips of the noodles turn golden brown.
Remove from the oven and let it rest for 15-20 minutes before slicing.
Slice and enjoy warm or cold!
All LC Foods products have full nutritional detail on their labels and website. Total carb counts for a full recipe will vary and depend on the other ingredients used. Please refer to free apps, such as My Fitness Pal, My Net Diary or Carb Manager, to calculate nutritional information.