Print
CHOCOLATE CHIP EASTER BASKETS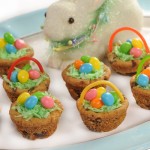 1

package LC Foods Chocolate Chip Cookie Base

5 Tbsp

butter (melted)

1

egg (medium – large size) beaten

1 tsp

vanilla

¼ cup

chopped sugar free chocolate

1/3 cup

of LC-Vanilla Frosting Mix®

1/8 tsp

vanilla

1 Tbsp

& 2 tsp softened butter
Green Food Coloring

¼ cup

LC Foods Coconut Flakes
Sugar-Free Jelly Belly Jelly Beans
Thin-string licorice, various colors, cut into 3-inch pieces for basket handles (optional)
Instructions
PREHEAT oven to 375° F. Grease and flour 24 mini-muffin cups. Prepare LC Foods Cookie Dough according to directions. Press cookie dough against sides and bottom of muffin pan.
BAKE for 13-14 minutes or until golden brown. Remove pans to wire rack. If licorice handles are to be added, with tip of wooden pick, make two holes opposite each other on top edge of cup. Make sure holes are the same size as the width of the licorice. This is best done when cups are very warm. Cool cups completely in pans on wire rack. With tip of butter knife, remove cookie cups from muffin pans. Arrange on serving platter.
COMBINE frosting and a few drops of food coloring in small bowl, adding additional food coloring until desired shade is reached.
DISSOLVE a few drops of food coloring in 1/4 teaspoon water in small, re-sealable food storage plastic bag. Add coconut. Seal bag and shake to evenly coat coconut.
SPOON a small amount of frosting onto the top of each cup. Add a pinch of tinted coconut. Top grass with Sugar Free Jelly Beans. Insert ends of licorice into small holes in cups for handles.