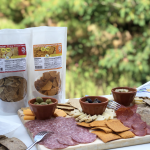 Try this wonderful recipe from LC Foods and let us know what you think!
Keto Charcuterie Board
The perfect summertime party appetizer featuring low carb crackers and chips!
Ingredients
Salami
Pepperoni
Variety of cheeses
Variety of olives
Marinated artichoke hearts
Instructions
Get a large platter or cutting board and some small bowls
Fill bowls with a variety of olives and marinated artichoke hearts
Spread bowls out across the board
Layer the board with salami, pepperoni, sliced cheeses, crackers and chips
Make sure to include some toothpicks or forks for serving
Wow your party guests with this beautiful, keto charcuterie spread!
Pro tip: fill any empty spaces on the board with nuts, strawberries or blueberries!
Notes
Fresh Baked LC Chia Crackers: 0.2g net carbs per 5 crackers
Fresh Baked LC Cheezy Crackers: 1g net carbs per 5 crackers
Fresh Baked LC Cracker Thins: 1g net carbs per 5 crackers
Fresh Baked LC Tortilla Chips: .5g net carbs per 5 crackers