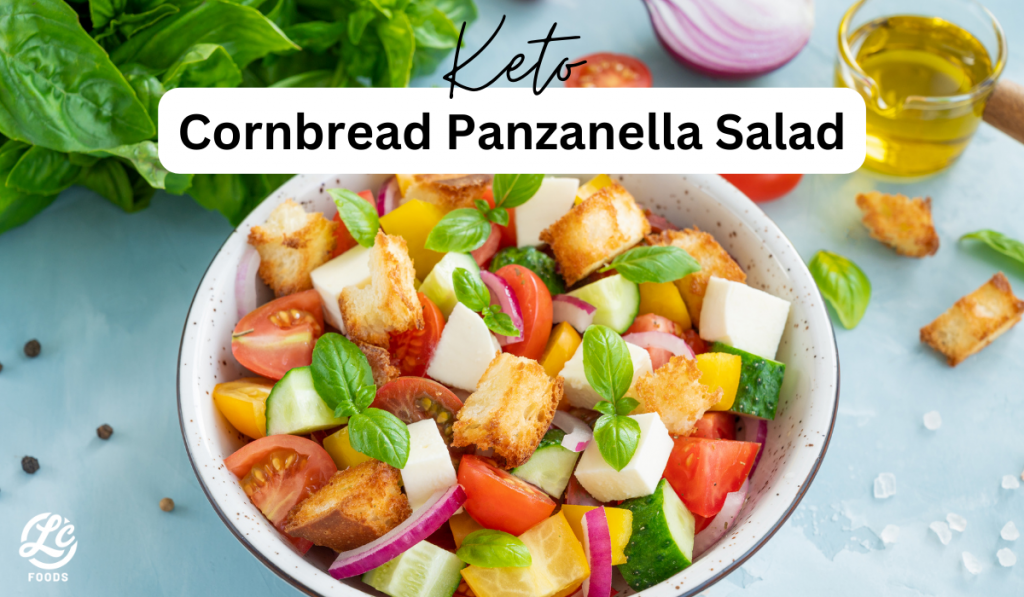 The perfect summertime salad is here! Our freshly baked Keto Cornbread makes this recipe come together quickly. Choose which veggies you want to add and if you want to include mozzarella cheese or not.
Ingredients:
1 Package LC Keto Cornbread
2 Tbsp Butter
1/3 cup Red Onion, sliced
1 cup Good Tomatoes: Heirloom or Mixed Yellow, Orange, Red Tomatoes, chopped
1/2 cup Cucumber, chopped
1/4 cup Basil, torn or sliced
2 Cloves of Garlic, thinly sliced
2 Tbsp Olive Oil
2 Tbsp Balsamic Vinegar
Salt and Pepper to Taste
Optional, 1/3 cup Fresh Mozzarella, chopped
Directions:
Cut the LC Keto Cornbread into large cubes.
Melt the butter in a pan over medium heat and add the cornbread cubes.
Sauté until crisp. Remove from the pan and place on a paper towel lined plate.
Add tomatoes, red onion, cucumber, basil, garlic and mozzarella (if using) to a serving bowl.
Whisk together olive oil, balsamic vinegar and salt & pepper.
Toss salad ingredients with the dressing.
Add the cornbread cubes just before serving since they will soak up the juice from the tomatoes and get soggy quickly.
Serve and enjoy!
*LC Keto Cornbread has 1g net carb per 1 and 1/2″ wedge.
All LC Foods products have full nutritional detail on their labels and website. Total carb counts for a full recipe will vary and depend on the other ingredients used. Please refer to free apps, such as My Fitness Pal, My Net Diary or Carb Manager, to calculate nutritional information.