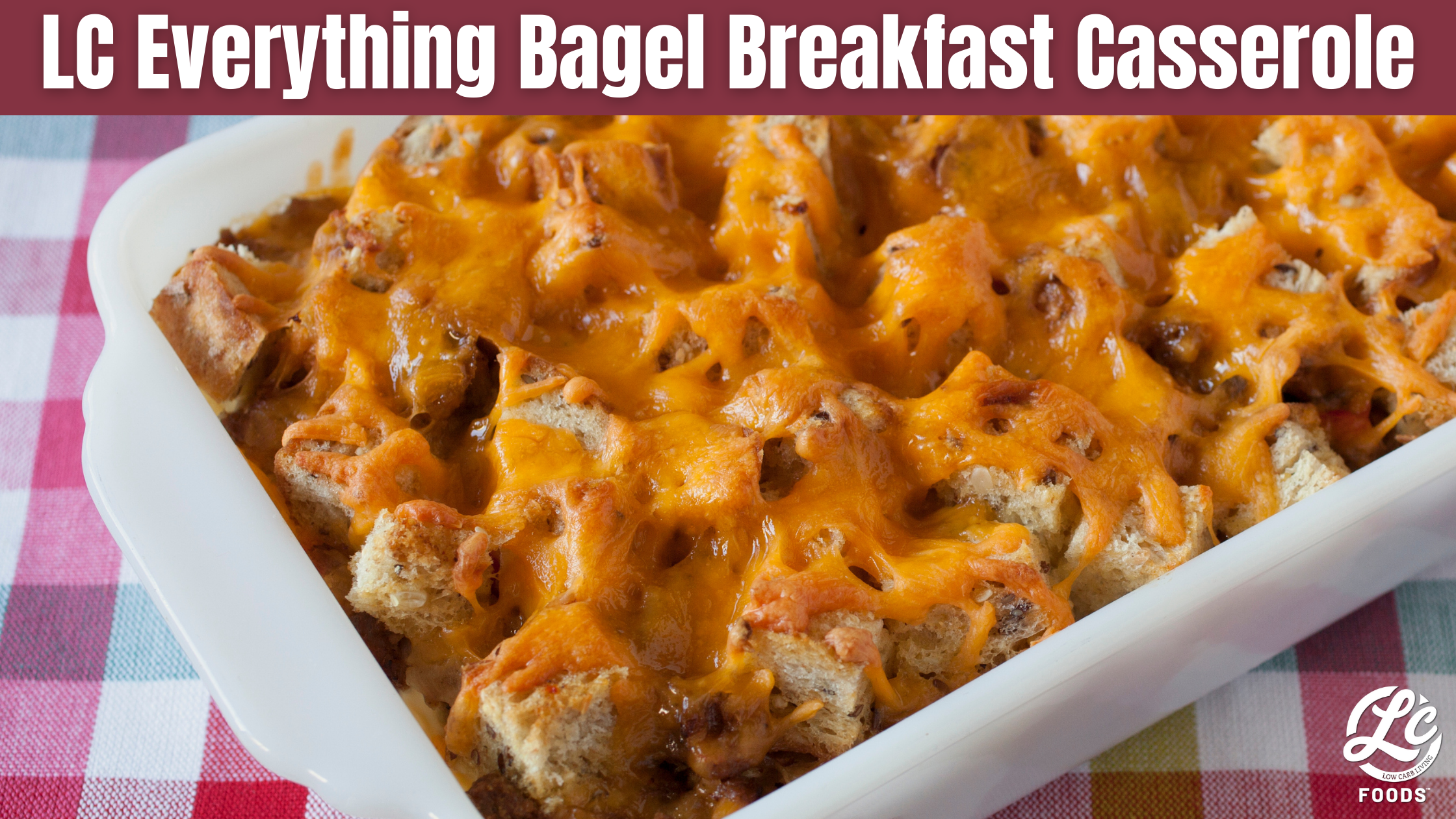 This breakfast casserole can be made up to a day ahead! Use your favorite hard cheese, and you can switch ingredients from sausage to bacon…just be sure it is cooked before assembly.
Ingredients:
6-8 ounces cooked breakfast sausage, crumbled
2 cups sharp cheddar cheese or hard cheese of your choice, shredded and divided into thirds
6 ounces cream cheese, cut into 1-inch cubes
5 large eggs
1-1/4 cups heavy cream
½ teaspoon salt
1/4 teaspoon pepper
Method:
Grease a 9×9 inch casserole dish.
Cut the LC Everything Bagels into 1 inch cubes.
Add ½ of the LC Everything Bagel cubes to the casserole dish. Sprinkle with half of the crumbled sausage. Then 1/3 of the cheddar cheese, and half of the cream cheese cubes.
Repeat with another layer of LC Everything Bagel cubes, the remaining sausage, 1/3 of cheddar cheese, and the remaining cream cheese.
In a bowl combine eggs, heavy cream, salt, and pepper. Whisk until thoroughly combined.
Pour the egg/cream mixture over the bagels making sure to cover all of them.
Tightly cover the casserole dish and place in refrigerator for 4 hours or overnight.
When you are ready to bake the casserole, preheat oven to 350 degrees F.
Cover the casserole with aluminum foil and put in the oven and bake for 35 minutes.
Take it out of the oven and remove the foil. Sprinkle the remaining cheddar cheese on top and continue to bake for about 10 minutes, without the foil, until the casserole is set and the cheese is melted.
Let cool for 10 minutes before serving. Enjoy!
All LC Foods products have full nutritional detail on their labels and website. Total carb counts for a full recipe will vary and depend on the other ingredients used. Please refer to free apps, such as My Fitness Pal, My Net Diary or Carb Manager, to calculate nutritional information.