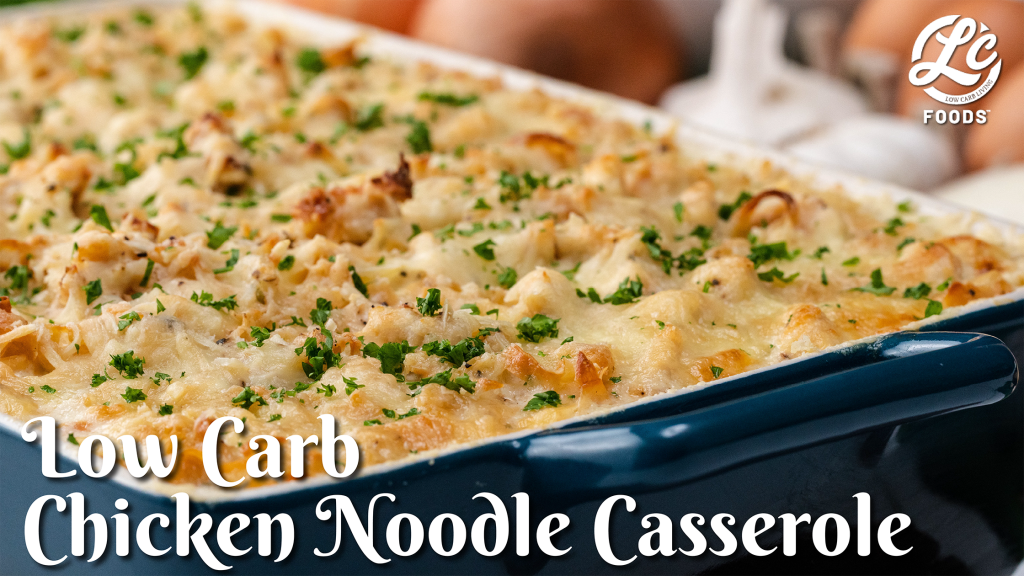 Prep Time: 15 minutes
Cook Time: 45 minutes
Total Time: 1 hour
Servings: 12
Ingredients:
12 oz LC Buttery Pasta Noodles
16 oz cream cheese
8 oz heavy cream
1 large egg, beaten
2 cups shredded mozzarella cheese, divided
3/4 cup freshly grated parmesan cheese, divided
1/2 cup butter
3 cloves garlic, minced
1/2 yellow onion, diced
2 tsp LC Thick'n Saucy
1 tsp salt
1/2 tsp freshly ground black pepper
1 tsp dried basil
4 cups low sodium chicken broth
4 cups cooked chicken, chopped
fresh parsley leaves for garnish, optional
Method:
Cook buttery pasta noodles by soaking them in a large, heat-safe bowl with boiled water for 7-10 minutes, or just under al dente. The noodles will continue to cook in the oven, so slightly undercooking them in this step is highly recommended.
Preheat the oven to 350 degrees F.
In a large mixing bowl, stir together cream cheese, heavy cream, egg, 1 cup of mozzarella cheese, and 1/2 cup parmesan cheese. Set aside.
Melt butter in an extra large saucepan over medium heat. Add onion and cook until translucent. Add garlic and cook until fragrant. Add Thick'n Saucy, salt, pepper, and dried basil. Cook, stirring, for 1-2 minutes.
Slowly whisk in chicken broth, and let the mixture thicken by simmering at low heat for about 10 minutes. Remove from heat.
Add chicken, noodles and cheese mixture to the saucepan and stir to combine.
Pour mixture into a 9×13'' baking dish (or oven safe saucepan). Top with remaining mozzarella and parmesan cheese.
Bake, uncovered, for 30-40 minutes or until golden on top and bubbly.
Cool for 10 minutes before serving. Garnish with parsley, and enjoy!